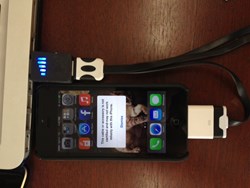 What was especially surprising was that one 3rd-party cable in particular... appeared not to charge the phone at all... even though the phone was drawing 5-watts.
Salt Lake City, UT (PRWEB) September 20, 2013
By now it's old news that the last major update to iOS has blocked support for many 3rd-party charging cables. This includes cables as well as 3rd-party lightning adapters commonly found on discount sites such as Amazon. Many users were charging just fine until the update was released Wednesday morning. Now the masses of the Internet are scouring to fix their knock-off cables or breaking down and buying MFi-certified cables from Apple, Belkin and others.
Interestingly though, is that some unlicensed 3rd-party cables still work. They receive the now infamous warning message that their cable "is not certified" but are still able to charge. How then does one tell if a 3rd-party Lightning cable is working after they update to iOS 7? The solution comes in a soon-to-be released invention that made waves on Kickstarter this last July. The device, called the Practical Meter, raised over $160k on the promise it would tell users how fast their phone is charging. It ended a 30-day campaign with 8,200 backers.
The Practical Meter has a simple 5-bar indicator, similar to signal strength bars on a cellphone. It makes reading power output easy. The more bars that light up, the faster a smartphone or tablet is charging via USB. If all 5 bars are lit up, the iPhone is charging at max speed. This intuitive display is especially handy now that iOS 7 is bugging out over knock-off Lightning cables.
The makers at Power Practical blogged about their experience with iOS 7, 3rd-party Lightning cables and what their Practical Meter told them. "As expected, some 3rd-party cables worked just fine, despite the error messages iOS 7 produced," said Wafiq Ali, director of sales at Power Practical, "What was especially surprising was that one 3rd-party cable in particular, a generic no-name cable from Amazon Marketplace, appeared not to charge the phone at all (based on the battery icon on the phone) even though the phone was drawing 2.5-watts according to the Practical Meter," said Ali. After 10 minutes of 'not charging', Wafiq's iPhone 5 question had raised its battery level from 55% to 62%, meaning it really was charging after all.
In the midst of all this mess sits the Practical Meter, a one-stop shop for checking up on smartphone charge times. With the Practical Meter users can ignore the frustrating messages iOS 7 brings up, and focus on how many bars light up when they plug in their phone.
To learn more about the Practical Meter or its ability to diagnose Lightning connector issues with iOS 7, check out the Power Practical team's blog post on the matter or visit their official page at http://www.practicalmeter.com.