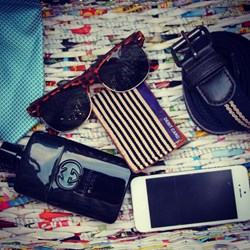 If you can let simplicity take over your pocket, it can take over your whole life.
Virginia Beach, VA (PRWEB) September 23, 2013
Simple Wallet has recently introduced their latest concept of minimalist wallets to the Kickstarter community. Simple Wallet 2.0 is proving to be a success with 11 days left of fundraising. So far, almost 2,500 backers have pledged more than 650 percent of campaign's original goal. This young company's dream of growing while helping others is soon to be a reality.
Simple Wallet 2.0 is simply designed to make life easier and to look good while doing it. Lining up its second and largest success in the past year is no easy task. Founder and CEO, Daryoush Farkhakfar, first launched his idea of a simpler wallet earlier this year. The Simple Wallet 1.0 embodied the minimalist vision in a durable and sleek design. It is carefully handcrafted with genuine Italian leather and incredibly durable elastic. Designed for modern life, the Simple Wallet tightly holds all essential cards and cash without making pockets look bulky.
Thanks to the ample support provided by Kickstarter community, in the form of innovative recommendations and pledges, the Simple Wallet 2.0 was born.
"The customers spoke and we listened. We did not want to make the simplest wallet on the market. Instead we aimed to have a wallet that makes our customers' lives simpler." -- Daryoush, CEO and Founder
The addition of a super attractive and durable attachment band to the back of the 2.0's increases utility by allowing this amazingly thin wallet to safely carry 15+ cards, cash, and even a phone. Another improvement is the durable key ring tab which allows an variety of items to be securely attached to the wallet. These upgrades help make pockets incredibly simple and organized.
Simple Wallet's commitment to quality and style has even been mentioned on several international fashion blogs.
"While there are many wallets on Kickstarter I think this one does a great job at being minimal and using great materials, while still managing to offer a unique feature (holding phone and keys). Dress it up or dress it down this wallet should be good for all activities." -- Jeff Penner of WasabiMountain.com
"Simple was a product manufactured in the USA , a clear message to the patriotic pride of a nation resigned to embracing Made in China, would also be made with the humility of a starting hand over hand." -- Jose Mendiola of elconfidencial.com
Simple Wallet 2.0 looks elegant enough for the classiest of nights, but humble enough to carry everyday. Its perfect blend of fashion and function make it the ideal accessory for men and women who want to live more simply. Check us out at: http://kck.st/15gqU5O. Simple Wallet is planning to roll out a new website this October for this and future products.
As always, keep it simple!