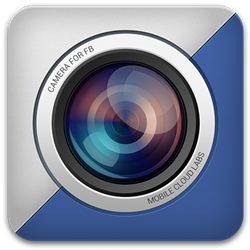 Camera for Facebook users have given rave reviews since its release...
LONDON (PRWEB) September 20, 2013
Mobile Cloud Labs Plc., developers of high-quality applications for smartphones, handheld devices, and portable computers, has released a new version of its popular Camera for Facebook app that is compatible with Android version 2.3.3 and above. With this release, virtually all Android users can now automatically add photos to Facebook albums.
More than 33 percent of the existing Android devices are still using the older Android 2.3.3 operating system. With the latest release of the Camera for Facebook app, Mobile Cloud Labs has extended its market reach, as it offers the same streamlined camera interface to users with Android devices version 2.3.3 as to users with the Android 3.1 and above operating system.
"We recognize that not all users have the latest technology, and we would like to ensure that as many Android users as possible could benefit from our Facebook camera app," said Richard Sylvester, CEO of Mobile Cloud Labs Plc. "Camera for Facebook users have given rave reviews since its release. Android users are clearly hungry for a simplified Facebook photo app and with this newest release we expect to acquire even more mobile users and social media fans".
Camera for Facebook is what other photo sharing apps were meant to be. It simplifies the process of taking and uploading Facebook photos with an easy-to-use interface and a two-step process. Users only have to open the app and take a picture, it will be automatically uploaded to a designated Facebook album. The app allows users the capability to create new Facebook albums, and to label them as either public or private, so they can share photos instantly or select and share them with Facebook friends at a later time.
Users also can choose to designate "Wi-Fi only" for photo uploads to save on cellular airtime and the app adds advantages over the base Android smartphone's camera features, supporting normal camera mode for Facebook pictures, or burst camera mode for lower resolution action photos that need a faster shutter speed. The app supports both front and back cameras on the Android phone, and has four flash settings for supported devices. It also features a grid for easy photo framing, photo cropping, and more.
Camera for Facebook is available in English, Spanish, German and Japanese for Android portable devices from the Google Play store, you can get it here.
About Mobile Cloud Labs Plc
Mobile Cloud Labs are developers and marketers of high-quality applications for smartphones, tablet computers, and laptops with offices in Switzerland and the United States. The company is currently developing new location-based applications booming mobile advertising market, delivering messages with pinpoint accuracy to open up new marketing and point-of-sale strategies. The company is also developing new smartphone users to help them get more from their mobile social media experience.