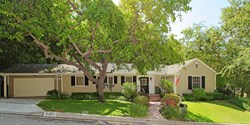 Bel Air together with Beverly Hills and Holmby Hills forms the Platinum Triangle of Los Angeles neighborhoods.
Bel Air, California (PRWEB) September 24, 2013
Dustin Cumming and Danelle Lavin of Hilton & Hyland Real Estate bring to market the quintessential traditional Bel Air estate located at 10970 Verano Road.
The traditional home sits on a quiet, private cul-de-sac in prime Bel Air. Architecturally stunning, this four bedroom and three bathroom home features a chef's kitchen, expansive master suite and beautifully appointed living spaces throughout. A beautiful lanai surrounded by ornate French doors open to the professionally designed and landscaped rear yard, which includes hiking trails, sitting areas and water features and was featured on HGTV's Landscaper's Challenge. The main rear yard features a solar heated pool, spa, built in barbeque, cabana and well-manicured hillside walking paths. Remarkably well maintained, this home is perfect for capturing the best of the Southern California indoor-outdoor lifestyle.
Thurston Boyd, a renowned interior design firm out of Laguna Beach, is responsible for the impeccable finish and aesthetic throughout. The light colors and French themed finishes combined with the old Bel Air appeal create a serene environment worthy of Cottages & Bungalows Magazine, which featured the 10970 Verano Road property on the cover of its May issue.
Bel Air is a small, affluent residential community in the hills of the Westside of the city of Los Angeles, California. Together with Beverly Hills and Holmby Hills it forms the Platinum Triangle of Los Angeles neighborhoods. It borders the north side of ULCA along Sunset Boulevard. At the heart of the community sits the world famous Bel Air Country Club, with a $150,000 initiation fee it is home to such Hollywood legends as Jack Nicholson, Roger Birnbaum, Luke Wilson, Leslie Moonves, WME's Patrick Whitesell, Kelsey Grammer, Jack Wagner, Chuck Lorre, CBS' Armando Nunez, Tom Rothman, Clint Eastwood and Tom Cruise. The equally renowned Hotel Bel Air houses Wolf Gang Puck's famous eatery bearing his name as well as being known as one of the most quaint and upscale boutique luxury hotels in Los Angeles.
Bel Air is bordered by Brentwood on the west and southwest, Westwood on the South, Beverly Hills Post Office on the East with Sherman Oaks to the North. The Bel Air Association has been operational since 1942, dedicated to preserving the aesthetic appearance of the residential community. Residences in Bel Air tend to be hidden from the winding roads of the community. High density multi-family housing is not permitted and ordinances regarding architectural styles and lot sizes help to preserve the area.
For additional information on 10970 Verano Road, Bel Air, California please visit http://www.CummingLavin.com.