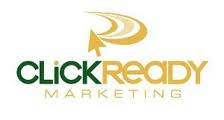 This is a an ideal package for a small business on a budget at just $499 per month investment
Atlanta, GA (PRWEB) September 20, 2013
Click Ready Marketing a leading SEO Marketing Agency in Atlanta launches new small business internet marketing package designed to give small business an edge in todays competitive online marketplace. The new plan offers link building, social media buzz creation, 4 annual press releases, blog creation, content development, 5000 social media "Like Me" cards, premium subscription to Yext, and designing and hosting of a standard mobile website. Also what they refer to as SEO Launch which is a combination of task including page titles optimization, meta-description creation, H1, Alt Tag Optimization, Link Audits, and many more features. "This is an ideal package for a small business on a budget at just $499 per month investment," adds Craig Lawson (President of Click Ready).
Click Ready Marketing is a mid-size agency that currently has about 65 clients. They also have a unique industry commitment of not taking on direct competitors of their clients as long as customer has a business relationship with CRM. "I feel this lets our clients know we are committed to their business well being," says Lawson.
"Click Ready Marketing stays away from black hat business practices that are frowned upon by Google such as paid link building," states Lawson. Click Ready Marketing only uses reliable and trusted measures to promote their clients such as using companies to partner with such as Yext, PRWEB, DudaMobile, and top social media sites.
If you would like to learn more about Click Ready Marketing; please visit our website by following the link: http://www.clickreadymarketing.com.