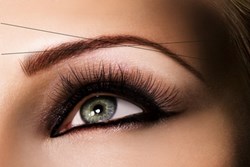 Threading - chemically free facial hair removal.
(PRWEB) September 24, 2013
Although there is yet a high demand for waxing, many people search for alternatives to hair removal. There could be many reasons for this, one of which is irritation by the wax itself. In this case, people consider laser treatment, however one of the more popular methods gaining reputation is threading. While threading is not new, but rather an ancient art dating back to history, it is fairly new to Western industries. While most commonly used on areas of the face such as the chin, cheeks, upper lips, and sideburns, it may be used on numerous body parts as an efficient hair removal solution. It is now considered one of the most commonly used and growing natural hair removal remedy in North America, and continues to extend to many other countries on a global scale.
This simple practice utilizes anti-bacterial thread with a coat of natural lotion to ensure that skin reactions are kept at a minimum, and thorough removal of the hair below the root to guarantee that hair growth is not abruptly stopped by means of cutting only the top portion of the hair (on the surface of the skin). In order to do so, a cotton thread is held, twisted, and rolled along the side of the skin along with the hair on the targeted area, which is then lifted to remove the hair from is follicle.
"This process is very skin-friendly and safe to use, and is one of the most reliable remedies to hair removal in today's fast paced yet risky technological era. Given that is uses a highly effective and hygienic thread to clean hair off the skin and pull each strand directly from the roots, there is also a very minimal risk of infection or reaction on various types of skin, be is acne prone, or dry," explained Seema Kudesia, Clinical Director at TEAL Wellness.
Furthermore, in the event that one is taking medication for acne problems or any other prescription drugs that may make the skin sensible or prone to reactions, doctors will alert them that they must avoid waxing at all costs. As a healthy alternative in this case, eyebrow threading is considered given that it does not further deteriorate the condition of the skin by irritation and heat.
As a healthy alternative to painless and efficient hair removal techniques, contact TEAL at 613-745-3418 or visit http://tealwellness.com to book a threading appointment near you.
About TEAL:
Established in 1998, TEAL is a Canada based holistic spa and wellness clinic. TEAL offers a wide variety of services, each one personalized to a customer's specific needs. Specializing in everything from herbal medicine to laser treatments, the wellness clinic offers health and beauty solutions for anyone who walks through their doors. TEAL strives to promote self-confidence and inner beauty for all of their customers. For more information please go to http://www.tealwellness.com or visit 570 Montreal Road, Ottawa ON or call (613) 745-3418.