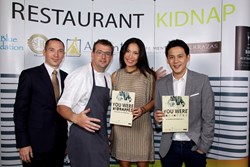 Bangkok, Thailand (PRWEB UK) 23 September 2013
The gastronomic masterminds at Aleenta resorts converged on Bangkok this Monday, staging a daring 'culinary kidnapping' by seizing the kitchens of one of the city's best-loved eateries, The Bar and The Restaurant on Sukhumvit Soi 24, to serve up an evening of creative fine dining.
The not-so-hostile takeover was orchestrated by the Kitchen Teams at the award-winning luxury boutique resorts, Aleenta Phuket-Phang Nga and Aleenta Hua Hin-Pranburi, reinterpreting some of The Bar and The Restaurant's most popular dishes with the permission of TV celebrity owner Khun Fluke Krirkphol.
Owner and Managing Director of Akaryn Hospitality Management Services (AHMS), Khun Anchalika Kijkanakorn said that the evening was the first in a series of innovative dining events, celebrating culinary creativity and raising awareness and funding for the environmental charity, the Pure Blue Foundation.
"I'm delighted with the success of our first Restaurant Kidnap. It's a fun way to experience a unique take on dining in familiar settings, and considering we raised a total of THB200,000 for the Pure Blue Foundation, its safe to say we'll be looking forward to staging a few more restaurant 'heists' around Bangkok in future," she said.
The re-imagined menu at The Bar and The Restaurant was the brainchild of James Noble, former chef and now Resident Manager at Aleenta Hua Hin-Pranburi, who surprised guests with a series of unexpected takes on familiar dishes, such as a Scallop Cappuccino and a Deconstructed Beef Wellington with Chicken Liver Parfait. Chef De Cuisine Alex Bitterling of Aleenta Phuket Phang Nga also lent his culinary talent for the event together with key service team members from AHMS-managed resorts.
"I've loved every minute of the Restaurant Kidnap," said Mr Noble. "It's been a great way for all of our chefs to get their creative juices flowing and showcase some truly impressive dishes. I'm already looking forward to the next event, so get ready for more hijacking, more hijinks, and more great food."
Since its foundation in 2010, Pure Blue has raised much-needed funds which have been dedicated to a number of awareness campaigns and meaningful initiatives including turtle conservation in Phuket-Phang Nga, coral reef regeneration in Koh Samui, scholarship for deserving talents, as well as community-centric activities including adopting and supporting Natai Beach's Khao Pillai School, to educate children on the importance of marine conservation. For more information about these initiatives, please visit http://www.purebluefoundation.com.