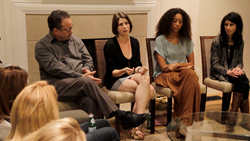 Programs like this are vital in the emotional, intellectual and academic education of the next generation of students.
Los Angeles, CA (PRWEB) September 25, 2013
Rainbow Tutoring, serving Los Angeles families for over 15 years, has developed a unique approach to private college admission counseling. To kick off the launch of their college admissions workshops, the company is hosting a series of "College Knowledge Nights," open to the public. At the next event, held on October 2nd in Beverly Hills, Rainbow tutoring will also award an $1800 scholarship to one attending family.
"We've been helping students, on a one-on-one basis, gain admission to programs like Yale, NYU's Tisch, and Oxford for years," explains Rainbow Tutoring director, Cindy Chanin. "However, we recognized the need for an innovative approach to college admissions counseling. So, that's why we created the Paving the Way to The College of Your Dreams workshop." Equal parts college application boot camp, self-discovery retreat, and teen leadership group, the 13 week program guides high-schoolers of all grades through the process of finding well-fitting university programs, finishing their applications, crafting stand-out essays, and, most importantly, identifying their purpose in life and for attending college.
At the College Knowledge Night, families will learn how to make an impact in the application process, find opportunities that inspire and grow the student, avoid common pitfalls and misconceptions about college applications, identify criteria that will lead to an optimal student-institution fit, and hone in on the ways in which families can best allocate their resources (time, money, interests, and sense of well being). With several successful events under their belt, including their most recent event that was targeted specifically for freshman families from LA's celebrated Loyola High, Rainbow is gearing up to host their next College Knowledge Night on October 2nd in Beverly Hills. This time, they're giving away a scholarship to their new program, and encouraging guests to invite friends in order to increase their chances of winning.
"Programs like this are vital in the emotional, intellectual and academic education of the next generation of students," explains Oaks Christian High School's Director of College Counseling, Jeff Morrow. "The Rainbow program is the perfect blend of the philosophical and the pragmatic. Equal parts introspection and strategizing. Students come away better prepared for success in the classroom and beyond, but more importantly one step closer to finding their purpose," he continues.
As a Santa Monica High parent, and attendee of the kick-off event, Wendy Hammers remarks, "the Rainbow educators present the types of questions that desperately need to be asked at this crucial, and sometimes challenging, point in a teenager's life." Rainbow has relied on loyal evangelists like Wendy, especially for the event series, as a volunteer family is hosting each evening. In uncertain times like these, when competition among families is at an all time high, it is refreshing to see parents so eager to share valuable insights and information.
Families interested in attending the free College Knowledge Night on October 2nd can visit http://www.RainbowTutoring.org/events to learn more about the panelists and topics that will be covered. Additionally, those interested in learning more about the Paving the Way to the College of Your Dreams program can visit http://www.RainbowTutoring.org or contact Cindy and the Rainbow Tutoring office at (310) 902-7912.
Rainbow Tutoring's team of co-educators work on students from the inside out, identifying students' points of passion in order to cultivate internal inspiration and intrinsic fulfillment for learning. Founded 15 years ago by Cindy Chanin, Rainbow Tutoring is equipped to tutor all academic subjects from elementary through college level and beyond. Rainbow Tutoring's multi-faceted approach to academic tutoring and mentoring--grounded in inspiration, self-awareness, leadership development, service learning, health and wellness, and teen life coaching--has led students to gain admission to top universities including Harvard, Yale, UCLA, Oxford, Julliard, and Stanford, as well as National Merit recognition and many perfect SAT and ACT scores. Rainbow Tutoring also counsels families through the independent schools admissions process as well as offers innovative workshops on college campuses and prepares grad-school bound students for rigorous exams such as the GRE, LSAT, MCAT, and GMAT.