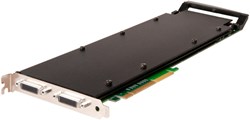 "The VisionHD4 provides a high density HD capture solution." - Bjorn Krylander, Managing Director of Datapath
Derby, England (PRWEB UK) 22 September 2013
The VisionHD4 is an eight lane PCI Express capture card with four independent High Definition (HD) video capture channels. These four HD video channels are triple buffered into onboard storage for tear free video. This capture card also captures embedded digital audio from all channels, which can be perfectly synchronised with respective video capture channel.
Datapath VisionHD4 key features and benefits:
4 x Datapath capture processors
HDMI/ DVI/ RGB/ YPbPr video capture
3.2 GB/s total capture bandwidth
8 lane PCI Express, Gen.3
Frame buffer memory 4 x 256MB
Maximum resolution up to 4096 x 4096, at 165 MHz Pixel Clock (digital modes) or 170 Msps in analogue modes
HDMI audio capture with streaming from each DVI channel
Windows and Linux driver support
"Quad HD is rapidly becoming the new high end standard for video solutions," said Bjorn Krylander, CEO at Datapath. He continued, "The VisionHD4 provides a high density HD capture solution, whilst at the same time providing sufficient performance for quad HD".
-ENDS-
About Datapath Limited
Datapath Limited is a world leading innovator in computer graphics, video capture and digital display technology.
Founded in 1982 and now distributing across five continents, Datapath has end customers in more than 100 countries Worldwide; covering multiple industries such as visual media, military, education, security and health care.
Consistently meet standards of excellence with the delivery of quick and effective support, and providing unbeatable customer service for any specialised requirement.
With Datapath's expertise, quality focus and dedicated customer support make the products the first choice for customers requiring solid, high-reliability solutions.