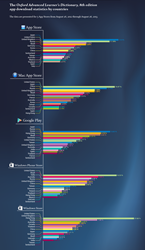 Oxford, Freiburg (PRWEB UK) 22 September 2013
Paragon Software Group, a leading multi-platform software developer for mobile devices and desktop computers, releases sales statistics by country and operating system of its best-selling Oxford Advanced Learner's Dictionary app, developed in partnership with Oxford University Press, the world's authority on the English language. Oxford Advanced Learner's Dictionary is the global best-selling dictionary for people using English for their work or studies, explaining the meaning of 184,500 words clearly, including over 100,000 example sentences to show how words are used, and providing real voice audio to help with pronunciation. The sales report lists the top 15 countries for downloads of the Oxford Advanced Learner's Dictionary app between 26 August, 2012 and 26 August, 2013. The data demonstrates that 5.45 times more Mac OS X users than Windows users from around the globe have downloaded the Oxford dictionary app. Paragon's figures also show iOS users are far more likely to purchase educational apps than Android users are. Furthermore, iOS owners are more likely to purchase more than one app in this category.
The sales report reveals that the largest number of downloads for iOS was in Japan with 15.93%, the USA 11.18%, the Russian Federation 5.93%, Brazil 5.83%, the UK 4.42%, China 4.23%, Germany 3.75%, and Korea 3.44%, followed by Thailand, Taiwan, Australia, Switzerland, Mexico, Italy, and France.
The Mac OS X English learners in the US led with 14.54% downloads, followed by Japan 10.27%, the Russian Federation 7.02%, China 6.97%, the UK 5.62%, Brazil 5.45%, Germany 4.99%, France 4.14%, and Australia 3.85%.
For Android platform, the Japanese again took the leading role in their desire to learn English with 12.83%, followed by the Russian Federation 8.81%, and then Korea, Hong Kong and Brazil.
Full reports and infographic for each of the five operating systems (Android, iOS, Mac OS X, Windows PC and Windows Phone) can be found at: http://slovoed.com/oald_stat/.
The Practical English Usage and Oxford Advanced Learner's Dictionary apps are essential tools for anyone who wants to improve their vocabulary, pronunciation, and understanding of English grammar. Practical English Usage, by grammar expert Michael Swan, is a world best-seller, and the first point of reference to deal with problems of English grammar. If you buy both apps (an option for iPad/iPhone users only), you can tap on a word in Practical English Usage to look it up in Oxford Advanced Learner's Dictionary.
The Oxford Advanced Learner's Dictionary app is available for the iPad/iPhone, Android, Mac OS, BlackBerry®, Windows™ Phone, Windows™ 8 and Kindle Fire at 40% off the usual price of £20.99 from 22 September to 5 October 2013. Practical English Usage app for iPad/iPhone is also available at 40% off the usual price of £27.99 from 22 September to 5 October 2013.
About Oxford University Press
Oxford University Press is a department of the University of Oxford. It furthers the University's objective of excellence in research, scholarship, and education by publishing worldwide. OUP is the world's largest university press, with a wide global reach. It currently publishes more than 6,000 new publications a year, has a presence in around fifty countries, and employs more than 5,000 people worldwide. It has become familiar to millions through a diverse publishing programme that includes scholarly works in all academic disciplines, bibles, music, school and college textbooks, children's books, materials for teaching English as a foreign language, business books, dictionaries and reference books, and academic journals.
To find out more about Oxford University Press please visit http://www.oup.com. To find out about OUP's English Language Teaching publications please visit http://www.oup.com/elt.
For more information or queries about the Oxford Advanced American Dictionary, please contact elt.enquiry(at)oup(dot)com.
About Paragon Software Group
Paragon Software Group (Smart Handheld Devices Division & Epocware) offers software for diverse classes of smartphones (Android, bada, BlackBerry, iPhone, iPad, iPod touch, Java, Windows Mobile, Symbian OS) and desktop PCs, including multilingual on-line handwriting recognition, localization, business and productivity applications, games, 120 multilingual dictionaries and encyclopaedias. PSG has offices in the USA, Germany, Japan, and Russia delivering its solutions to consumers through a network of operators, distributors and OEMs as well as online through the company website. PSG provides technology to a host of world class companies and partners including HTC, Microsoft, Motorola, Nokia, Samsung, Sony Ericsson. To learn more about Paragon Software Group's diverse product line, please visit:
Smart Handheld Devices Division: http://www.penreader.com.
Epocware: http://www.epocware.com
Storage Management Division:
http://www.paragon-software.com