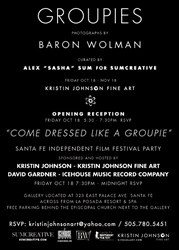 Santa Fe, NM (PRWEB) September 22, 2013
"Come dressed like a groupie."
Wolman's images capture the über-dedicated fans that religiously followed their favorite rock stars throughout the 60's. Equally as devoted to the tours as the groupies, Baron Wolman was along for the ride, however, for him - it was his job. When rolling stone magazine invited Wolman to shoot for the burgeoning publication, Wolman agreed to work for free, and when the first issue hit the streets five months later, rock history began to be recorded.
As the first rolling stone magazine photographer, Wolman set out to capture the music, lifestyle and passion of rock and roll. During his fast-paced tenure, Wolman's lens captured the royalty of the '60s pop and rock explosion which included: the Rolling Stones, Frank Zappa, The Who, Joan Baez, Iggy Pop, Pink Floyd, Bob Dylan, the Grateful Dead and a motley cast of trend setting hangers-on.
The depth of art Wolman produced throughout his time with the magazine has provided viewers with a historic and artistic documentation of the period. His "legacy of iconic images" is considered the most distinguished amongst high profile photography. His work provides viewers with an artistic representation of the people and the panache that made the era unforgettable.
The groupies photographs will be on exhibit in the – groupie tour bus (mobile art gallery) – specifically decorated to take the viewer back in time in order to evoke their own memories of rock and roll as a fan or a groupie. The tour bus will be parked next to Kristin Johnson fine art. This focal point of the exhibition will consist of traditional black and white photographs - that parallel and exemplify the haute aesthetics of fashion photography. One can even describe his images of the groupies as portraiture, as Wolman respectfully captures the essence of each groupie he has so creatively memorialized.
On display in the main gallery - Kristin Johnson fine art will debut six of baron Wolman's iconic rock star photographs - including: Mick Jagger, Janis Joplin, Johnny Cash, Jim Morrison, Jimmy Hendrix and Tina Turner in a never seen before medium and size. As "special editions of 5" - each iconic image will be printed on a 4' x 6' brushed metal. Additionally - three of Wolman's celebrated groupies will also be displayed in the same manner.
Wolman reminisces as he prepares for his upcoming exhibition: "In the late sixties the groupies had style. Yes, of course, they loved the musicians, but beyond that they were elegant, creative and empowered in their own right. they were beautiful, intelligent, and funny women. For me, photographing them, spending time with them, was delightfully inspiring - and a whole lot of fun!"
This art exhibit will challenge the art industry in Santa Fe as we know it today.
Curated by Alex Sasha Sum – principal of Sumcreative, the creative presentation is provocative as it is guided by a highly regarded luxury brand creative director for print and commercial advertising. Sum's visionary marketing and creative blend of instinct and foresight will deliver a revitalized and trend setting – museum quality presentation to the groupies exhibition. Sum's roster of impressive campaigns and clients include: the Guggenheim museum, 7 for all mankind, Rock Revival and Miss Me jeans, guess and Marciano, Tommy Hilfiger as well as Chrysler, the Venetian Hotel Las Vegas, Monsoon and Rena Lange. Whatever the brand or stratum – Sum ignites success! Her manifesto states: Every brand tells a story… Sumcreative tells the story. Kristin Johnson fine art is honored to have guest curator Alex Sasha Sum – as her unconventional and forward thinking approach will challenge the status-quo.
David Gardner - owner of Icehouse Music Record Company is doubly thrilled: "Our newly minted involvement with the Santa Fe Independent Film Festival, and our exciting partnership with Kristin Johnson and her roster of artists is a continuation of our commitment to creating and supporting the synergistic relationships by and between music, visual art and film."
Celebrating its 5th year, the Santa Fe Independent Film Festival is one of the hottest, fastest-growing film festivals that provides a platform for innovative filmmakers and directors to screen their films to a diverse local and national audience in Santa Fe, New Mexico. The festival runs from October 16th through the 20th. Several special events will be held throughout Santa Fe on October 18th from 7:30 until midnight, Kristin Johnson fine art will be throwing an exciting and multi-creative event – "groupies." The party follows the premiere of Sweet Vengeance, a homegrown feminist western that originally premiered at Sundance. Staring January Jones and Ed Harris and directed by Noah and Logan miller the film will show at the Lensic performing art center prior to the groupies show. The Santa Fe Independent Film Festival prides itself in the outreach, attendance and innovative programs they provide during the festival and throughout the year. Visit santafeindependent.com for more information.
Exhibition fact sheet:

Groupies runs October 18 through November 18, 2013. artist reception - Friday, October 18 from 530pm to 730pm - rsvp. a party in honor of the Santa Fe Independent Film Festival will be held at Kristin Johnson fine art on Friday October 18 from 7:30 to midnight - rsvp.
An independent film will be shown on an outdoor screen mounted on top of the gallery.
Musical entertainment will be provided by the Icehouse Music Record Company.
Kristin Johnson fine art and Icehouse Music Record Company are major sponsors.
Please rsvp by phone at 505.780.5451 or email at kristinjohnsonart(at)yahoo(dot)com
Come dressed like a groupie – be chic, be boho, be yourself!
The gallery is located across the street from the La Posada resort and spa at 323 east palace avenue in Santa Fe. Parking is available behind the Episcopal church next door to the gallery.
sumcreative.com kjfagallery.com icehousemusic.com