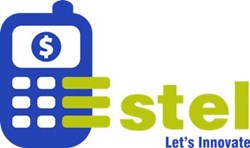 Estel introduces its Mobile Point of Sales platform for accepting card payments.
New Delhi, India (PRWEB) September 25, 2013
Having achieved significant success in the fields of Prepaid Recharge & Mobile Money in emerging markets, Estel now introduces its m-POS (Mobile Point of Sales) platform for accepting card payments for Asian, African & Latin American markets.
Globally, merchants accept payments via various types of cards (Credit / Debit / Gift / Prepaid) using traditional POS terminals where the card is swiped to trigger a payment transaction with the acquiring bank. These terminals also enable merchants to run end of day batches to settle the transactions with their banker.
Though, such POS terminals are omnipresent in developed markets, their penetration in emerging markets has been low, due to cost of the terminals and the associated infrastructure required. This has led to an imbalance, between the numbers of cards issued, versus the number of merchants who accept card payments. As a result, card usage has remained low & cash still remains the primary means to pay in emerging economies!
Estel's m-POS technology converts an Android smart phone into a card accepting POS terminal by combining it with a smart mobile application & an external card reader which is attached to the phone via its headphone jack. This enables merchants to accept card payments via their Android phone, in the same way traditional POS terminals do, but at a fraction of their cost, with the added convenience of full mobility.
The Estel m-POS platform is operated by Acquiring Banks, or Payment Service Providers, and includes:

An m-POS Merchant Device (consisting of Android phone, Estel smart m-App & approved Card Reader), and,
Merchant Portal, for registration, management & self care, with access to real time sales & transaction reports
Estel m-POS platform integrates seamlessly with existing switch infrastructure of acquiring banks. Optionally, Estel can provide its Payment & Settlement System (PASS) to manage the card processing & onward integration with the card consortiums.
Estel m-POS platform is PCI compliant, supports both magnetic stripe & PIN pad card readers (EMV will be supported soon), and enables electronic signature capture. The platform is card processor, mobile network, and device independent. Estel offers the platform, both on Capex model (on site deployment), and as a hosted (cloud service) on revenue share basis.
"We are extremely bullish about the new m-POS space and believe that our timing of product launch is right, and we have what it takes to get a sizable share of the market with our strong local partnerships and successful track record in Asia & Africa for our other products," said Estel MD, Raj Hajela.
About Estel Technologies
Estel Technologies is a specialist m-Commerce technology company offering m-Commerce software platforms like m-POS, Mobile Banking, Mobile Money, Mobile Payments, e-Recharge, Voucher Management serving 26 customers in 20 countries across the globe.
Meet us at GITEX technology fair on October 20 - 24, 2013 at Z14 Zabeel Hall, World Trade Center, Dubai & at Mobile Money Global, November 6 & 7, 2013 at World Trade Center, Dubai to see a demonstration of our m-POS solution & meet our team.