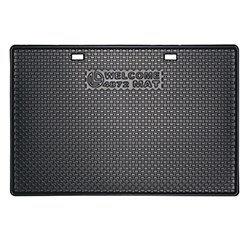 Myerstown, PA (PRWEB) September 22, 2013
Farmer Boy Ag announces the addition of the Wean to Finish Mat by Double L, proven to reduce the days your pigs spend on the finishing floor.
The Double L Welcome Pig Mat has handles and 1 ¼" Feed Saver Lip that allows nursery pigs to stay warm while avoiding diseases. The unique design allows the pig to lay on the elevated surface and stay dry while the creep feed stays in the 1/8" deep oval indentations and prevents the pigs from moving it around and wasting this very expensive feed. The 1 ¼" raised feed lip keeps feed on the pig mat, preventing it from passing through the slats. This is a big advantage over smooth or biodegradable boards.
Besides being great for creep feeding, the 4' x 6' high-density polyethylene pig mat is non-conductive and acts as a barrier between the pig and the cold floor. Pigs that are cold and chilled use the feed they eat to keep warm because they do not have any fat; consequently they do not gain weight. The greater the heat loss, the more feed it will take to offset that loss and produce gains. It is important to note that for everyday a nursery pig is stressed, one more day is added on the finishing floor. The Double L Wean to Finish Pig Mat will help the pigs to stay warm, dry, and healthy. This, in turn, will reduce the amount of days on the finishing floor.
Farmer Boy AG, Inc. has been at the forefront of the livestock and poultry industry, constructing facilities for these industries as well as providing a complete line of parts and supplies to keep those facilities running for years to come. Regardless of market conditions, Farmer Boy Ag strives to give customers "The Best Value in Ag Supplies!" For more information on the Welcome Wean to Finish Mat, contact the Farmer Boy AG Sales Department at 800-845-3374.