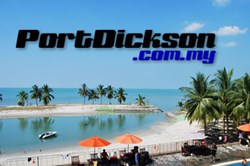 Port Dickson Online will be launching a travel eBook guide which will provide travelers and visitors to Port Dickson with a complete and very informative resource.
Port Dickson, Negeri Sembilan (PRWEB) September 21, 2013
BigBright Media is involved in many facets of businesses that help to promote and develop the fast-moving community of the coastal town in Negeri Sembilan, offering cutting-edge and industry-ready products like LED lighting, control systems and many others.
Port Dickson Online, through its web-based channel Portdickson.com.my has announced the launching of a string of new LED products and services which will further enhance the company's reputation and brand image of the preferred choice in lighting and tourism.
BigBright Media has been the premier supplier of LED lighting and display products to the community here which attracted major investors and corporations into the city. Through its complete range of LED lighting products, Port Dickson Online has in the past bridged Multi-National Companies, Government-Linked Companies and Small and Medium Industries to Port Dickson through marketing campaigns and advertising efforts.
To further provide more services, Port Dickson Online will now be offering outdoor lighting products through the joint-venture with BigBright, one of the leading suppliers of led lighting in Malaysia. Through this partnership, Port Dickson Online is offering all types of lighting products that range from LED bulbs to LED down-lights and CCTV LED street lights which are suitable for use in both commercial and private residential spaces.
LED lights are the current standard used in many sectors of businesses and homes where this technology is able to provide better savings in terms of bills as they are very energy efficient. For homes, it would mean more savings while businesses will surely benefit in terms of cost-effectiveness as LED is known to provide up to 80% savings in terms of electricity bills. On top of that, customers who purchase the LED lights from Port Dickson Online will enjoy a 5-years warranty term while experiencing brighter lights and more energy saving.
This partnership is set to enhance the position of Port Dickson Online where the company will be supplying LED drivers, video display and CCTV to all the top hotels, resorts and accommodation options like condominiums and apartments around Port Dickson.
Port Dickson Online will be launching a travel eBook guide which will provide travelers and visitors to Port Dickson with a complete and very informative resource. This eBook is available for download through Portdickson.com.my where it will be the focal point for anyone coming into Port Dickson Malaysia. This eBook will be the most informative point that can be viewed from mobile devices in which visitors will find the following segments:
Port Dickson Homestay – for those who like a more homely environment, the segment on Port Dickson Homestay will be most relevant as it includes a guide on all the homestay options available around Port Dickson that covers rates, availability, location and facilities.
Apartments and Resorts in Port Dickson – This segment of the eBook is important for those who like to stay in resorts and resorts in Port Dickson. There is an updated directory of all the resorts and apartments for rent and their respective locations.
Port Dickson Hotels – This is one of the most vital segments of the eBook as it provides all the details about the top hotels in Port Dickson. This segment is constantly updated to cover the major hotels and apartments, the most reviewed hotels and any other information that can make the stay here more rewarding.
PD beaches– this segment will provide the reader with information pertaining to all the major beaches around Port Dickson. This section includes information like contact details, transportation, how to get there, accommodation choices and others that the tourist would need to know. 
Tiara Bay Resort – A dedicated segment is included that provide information about the Tiara Bay Resort or formerly known as Tiara Beach Resort, an award winning and one of the most popular resorts in Port Dickson. This segment includes information about getting to Tiara Bay Resort, rates and charges, facilities available and such.