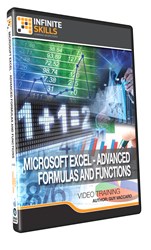 Learn the advanced formulas and functions in Microsoft Excel at your own pace.
(PRWEB) September 22, 2013
Software training firm Infinite Skills Inc. this week introduced its "Microsoft Excel - Advanced Functions and Formulas," an advanced course targeting Excel's capabilities for referencing, retrieving, and performing other complex functions on data.
By far the world's most popular spreadsheet application, Microsoft Excel has a virtually unlimited capabilities for customizing the way users interact with spreadsheet data.
Infinite Skills' "Microsoft Excel - Advanced Formulas and Functions" opens the door to this advanced functionality by exploring some of the most important areas of advanced functions and formulas.
Microsoft Excel - Formulas and Functions Video Training
Course author Guy Vaccaro has more than 15 years' experience with Excel and Office Suite training in classroom, manual writing, and computer-based formats. With a focus on Microsoft Office Suite, Vaccaro is especially accomplished in Excel and its uses in web and database functionality.
Following a brief overview of the basics of using functions and formulas, looking at sum and count syntax, referencing, and other fundamentals, Vaccaro prepares students for advanced topics by setting the stage with lessons on naming cells, 3D referencing, and full absolute referencing.
The course then dives in to advanced topics, exploring "If" statements, nested "if" statements; as well as more complex topics like using "and," "or," and "not" functions within "if" statements.
Vaccaro continues by explaining lookup and reference type functions, teaching how to use VLookup, HLookup, nested Lookup functions, and other advanced retrieval operations, before moving into mathematical functions, such as MRound functions, and random numbers, among other topics.
In its closing chapters, the course explores functions and formulas that can be applied to text values and strings, how to work with with date and time in functions, and learning advanced information and referencing functions, before wrapping up with an introduction to array functions and formulas.
"There is a vast amount of capability under the hood of Excel," Vaccaro says. "We'll start with a review of the basics and then turn up the gears and make things more advanced."
Free demo videos and a full list of course contents can be found on the Microsoft Excel - Formulas and Functions page of the Infinite Skills website:
http://www.infiniteskills.com/training/microsoft-excel-advanced-formulas-and-functions.html
Infinite Skills offers its Microsoft Excel - Formulas and Functions Training Video either as a DVD or a direct download from the company website at a retail price of $49.95. Though the compatibility of programs varies, all Infinite Skills titles and formats are compatible with both Mac and Windows operating systems, and shipping is available around the globe. Additionally, Infinite Skills tutorials are supported by project files which correspond to examples in the videos.
About Infinite Skills Inc.
A leader in the field of software training, Infinite Skills designs its courses on a task-oriented model, teaching complex skills by providing hands-on examples and guiding users as they carry out essential functions. Infinite Skills offers a wide range of software titles available as DVDs, digital downloads, and in iPad editions. Infinite Skills now offers a subscription service, providing access to all its training content for a monthly fee, keeping with company's aim of delivering professional training to customers anywhere they want to learn.