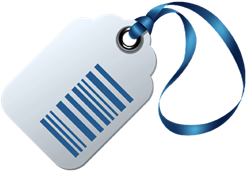 Adding Label Designer to GiftLogic is yet another option for busy retailers who want to work smarter, not harder.
Englewood, FL (PRWEB) September 22, 2013
GiftLogic, a software developer that caters to the retail industry, recently added support for printing barcodes and price labels to its point of sale solution. Rather than using a price gun and stock labels, retailers can quickly create custom labels and barcodes with GiftLogic's Label Designer. A GiftLogic spokesperson had this to say about Label Designer, "Your customers enjoy your personality. Now you can share your own style on every item for truly personalized labels."
Not only is it possible to create custom labels with branding elements, color pictures, text, pricing information, and other details using the Label Designer feature, it's possible to create barcodes from automatically generated database numbers. The software is easy to use, and it's included with GiftLogic POS.
GiftLogic's Label Designer allows users to create any size label, select from preloaded label templates, customize fonts, font sizes, colors, and messaging, and save custom layouts for future use. Inventory labels can be queued individually by any number of parameters such as vendor, product line, or product category. "Users can even receive an order and queue labels for all the items with a single click," the spokesperson said. "Adding Label Designer to GiftLogic is yet another option for busy retailers who want to work smarter, not harder."
GiftLogic's Label Designer is compatible with popular label printers such as Dymo® printers, as well as standard desktop printers using label sheets. "Uniform price tags throughout the store look professional and improve store efficiency," the spokesperson explained. "By adding barcodes to the mix, the checkout and inventory control processes are also streamlined. We're excited about Label Designer as are many current and prospective GiftLogic users."
About GiftLogic
GiftLogic makes a powerful and affordable point of sale system for retailers. GiftLogic POS is fully loaded with a host of standard and optional features including: cash register, inventory control, reporting, purchasing and receiving, fingerprint integration, QuickBooks® integration, time clock, credit card processing, e-receipts, gift registry, consignment, and the new Label Designer.