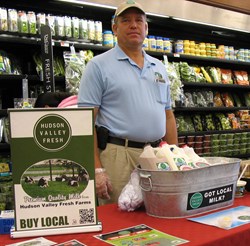 We promoted local before it was trendy and we look for the types of quality, high flavor local products that we are committed to offering at DeCicco's.
Armonk and Brewster, NY (PRWEB) September 23, 2013
Area shoppers seeking farm-fresh dairy products may be surprised to learn that they don't have to travel far. Not only is New York the third largest milk producer and fourth largest cheese producer in the US, as well as a major yogurt producer, but dairy farms can be found as far south as Dutchess County. And farm-fresh products are as close as the nearest DeCicco's. Strengthening its support of local farms, DeCicco Family Markets, a second generation grocery chain with 10 locations in Westchester, Putnam, and Rockland Counties, fills its aisles with one of the area's largest selections of local milks, yogurts, cheeses, and frozen desserts.
"As a family business, we have always sought out relationships with other local family business owners," explains Joe DeCicco, Jr. "We promoted local before it was trendy and we look for the types of quality, high flavor local products that we are committed to offering at DeCicco's." DeCicco's carries products from more than 50 local dairy companies. Among its milk brands are Hudson Valley Fresh, a not-for profit dairy cooperative of dairy farmers from Dutchess, Ulster, and Columbia Counties; Ronnybrook Farm Dairy, a producer of small-batch Hudson Valley milk and milk products; and Five Acre Farms, selling local milk that comes from no more than 275 miles from DeCicco's.
DeCicco's also supports New York State cheese, yogurt and eggs. Among the most popular cheddar cheeses from the Adirondack Cheese Company; hand-crafted artisan cheeses, including goat cheese, from Nettle Meadow Farm; and siggi's Scandinavian-style yogurt products produced in upstate New York. Joe notes that "our best-selling egg is from Feather Ridge Farm, a fourth generation farm in southern Columbia County that supports sustainable farming practices and local agriculture."
"Shoppers exploring our freezer cases will find an explosion of flavors in yogurts and ice creams made close to home," says DeCicco. "For example, we carry treat. frozen yogurt, which is produced in Cross River, and we stock the full line of flavors from Adirondack Creamery, based out of the Boice Bros. Dairy in Kingston, NY." Steve's, a small batch, Brooklyn ice cream maker, churns its full line of products using milk from Hudson Valley Fresh.
"We are getting more requests for local dairy made from grass-fed milk, so are looking for additional local suppliers," notes DeCicco. "DeCicco's focuses on quality and we strive toward excellence and strong relationships within a local community of products and producers."
Representatives from local farms offer food demonstrations and tastings at DeCicco's on a weekly basis, so shoppers are encouraged to check the demo schedule at their local store. DeCicco's newest store, in Armonk, is located at 17 Maple Avenue, Armonk Square, in downtown Armonk. The address of the Brewster store, the company's largest, is 50 Independent Way, Brewster, NY. Additional store locations are listed at http://www.deciccos.com.
About DeCicco's
DeCicco Family Markets was founded in 1973 by John, Joe and Frank DeCicco. It began as a small storefront in the Bronx, offering a choice of high quality food to its growing array of customers. For 40 years, DeCicco Family Markets has a proud history of bringing the largest selection of high quality food available to customers with a friendly, personal touch. It is this simple but unwavering mentality that has enabled the company to expand throughout Putnam, Rockland, Westchester, and Orange Counties. The family operates 10 stores in the following locations: Ardsley, Armonk, Brewster, Cornwall, Cross River, Harrison, Jefferson Valley, New City, Pelham and Scarsdale. The company is also involved in a number of civic and community-related events, regularly working with schools, Little Leagues, churches and Chambers of Commerce groups.