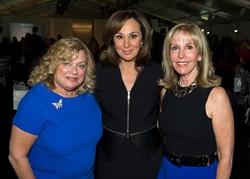 Old Westbury, NY (PRWEB) September 22, 2013
The tent at Old Westbury Gardens was filled to capacity with 565 guests all in attendance to preview the Fall 2013 collection of American designer Michael Kors and to support the 21st Annual Partners Council for Women's Health of the North Shore-LIJ Health System. The event, sponsored by Americana Manhasset, raised more than $475,000 for the Katz Women's Hospitals at LIJ Medical Center and North Shore University Hospital and Katz Institute for Women's Health (KIWH).
Taking the stage as emcee for the day's event was Rosanna Scotto, co-anchor of WNYW-TV FOX 5's Good Day New York. Ms. Scotto along with Stacey Rosen, MD, Vice President of Women's Health, spoke to the packed house of the importance of the Katz Institute for Women's Health, why women's health is different and the need of caring for the women in our lives. Introducing a video that captured the stories of female patients treated at the health system, they reflected on the exceptional team of doctors who specialize in women's healthcare and who are passionately dedicated to giving women of all ages the tools, information and support they need to make the healthiest choices in every area of their lives.
The runway showcased the fall fashion collection of Michael Kors. Accentuated by vibrant oranges, animal accents, cool blues and graphic prints, the models wore styles for both daytime and evening. The Michael Kors fashions were complemented by the effortless makeup and sleek hair styles provided by nuBest salon and spa in Manhasset. All guests were treated to cosmetic bags courtesy of nuBest along with a gift certificate to the Michael Kors shop at Americana Manhasset.
Acknowledging that her success was due in large part to the women in her life, Rosanna cited that had it not been for her sister, her mother, her aunts and grandmothers, all who served as the foundation of the Scotto family, she wouldn't know where she would be. "The Scotto women are the lynchpins of my family," shared Ms. Scotto. "I understand the importance of taking care of a woman's health and recognize the need to support the work being done at the Katz Institute for Women's Health at North Shore-LIJ."
All funds raised will help North Shore-LIJ in its continued effort to transform women's health services throughout the region. The Katz Women's Hospitals, along with the Katz Institute for Women's Health, continue to grow and serve as a valuable resource for women and their families.
Partners Council for Women's Health of the North Shore-LIJ Health System has raised more than $6.5 million over the last 20 years to help buy important equipment, fund critical research projects and build programs for the betterment of the women in and around our community.