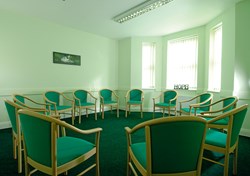 "If anyone thinks they have a problem with drink or drugs then contact The Providence Projects. They helped me a lot." Matt Willis
Bournemouth (PRWEB UK) 24 September 2013
The Providence Projects, drug and alcohol rehab featured prominently in tonight's documentary, "Being Paul Gascoigne" on ITV . This private centre, based in Bournemouth treats people from all over the world and has developed a reputation over the last 17 years as being one of the leading drug and alcohol treatment centres in the world. There are many reasons for the growth of The Providence Projects but the superb success rates and affordable programmes are both instrumental factors in the demand for treatment at this fabulous centre on the South Coast.
During this documentary, there were highs and lows, but throughout, Gazza spoke fondly of the treatment he received at The Providence Projects describing it as 'second to none'. He is among a list of ex clients who speak highly of their experience at The Providence Projects including Norman Cook, DJ Fatboy Slim and King of The Jungle, Matt Willis, who both successfully completed rehab and went on to have great recoveries.
Why The Providence Projects?
The Providence Projects was formed in 1996 and has continued to grow over the last 17 years. Treatment is offered for all addictions but most commonly alcohol or drugs. It has become accepted in the field of addiction that the staff team at The Providence Projects are the leaders in the field of addiction treatment, and very much the reason why the success rates are so high.
The combination of the excellent staff team and the carefully tailored treatment programme overseen by Steve Spiegel and Paul Spanjar, who work closely with Gazza, ensure a positive treatment experience for all clients.
In many ways, the jewel in the crown at The Providence Projects is their determination to ensure that alcohol detox and drug rehabilitation remain affordable. For so long the public perception was that high quality rehab programmes were only available to the rich and famous but The Providence Projects have managed to change this.
Most private rehab clinics in the UK currently charge approximately £3000 per week but The Providence Projects are able to offer a full 28 day programme including detox and intense residential therapy programme for £3750. For those that require more than 4 weeks treatment, any extra weeks are charged at £675 per week.
Residential programmes can range from 4 weeks to 12 weeks and are tailored to suit the need of the individual and immediate admissions can be arranged. Addictions specialist counsellors are available 24 hours a day to listen and to discuss rehab options. Anything discussed is in the strictest confidence and many families report that this conversation is the first time anyone understood.
Call 0800 9550945 to speak to a counsellor now or visit http://www.providenceproject.org for further information.