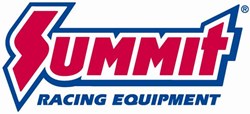 Tallmadge, OH (PRWEB) September 21, 2013
Summit Racing and BluePrint Engines recently partnered with the History Channel's hit show Counting Cars by providing three fire-breathing engines to Danny Koker and his Count's Kustoms shop. Fans of the show can now get one of these BluePrint Engines Crate Engines for their own projects.
BluePrint Engines began 20 years ago as a small engine building business that catered to the racing and street rodding community. Since then, BluePrint Engines has built over 200,000 engines that power everything from daily drivers to no-compromise race cars. Every BluePrint Engines Chevy, Ford, and Mopar crate motor is dyno-tested and balanced, and most engines are backed by a 30-month/50,000-mile warranty.
Blueprint Engines 347 Stroker Engine
Early in Season One, Count's Kustoms built a 1971 Ford F-100 Pickup Truck from a pile of body panels. Powering the truck is a BluePrint Engines 347 Cubic Inch Stroker Engine. This fully dressed small block delivers 330 horsepower and features upgraded OE iron cylinder heads, 600 cfm four-barrel carburetor on a dual plane intake manifold, HEI distributor, and more.
Product Link
Blueprint Engines 383 Stroker Vortec Engine
Later in Season One, the Counting Cars team built a third-generation Camaro IROC-Z to "better-than-new" condition. Under the hood of this street machine is a BluePrint Engines 383 Cubic Inch Stroker Vortec Engine. This stroker small block Chevy makes 405 horsepower and 440 pounds-foot of torque, and eatures a four-bolt main block, new Vortec iron cylinder heads, a 750 cfm carburetor on a dual plane intake, HEI distributor, and more.
Product Link
Blueprint Engines 383 Stroker Fuel Injected Engine
In Season Two, Counting Cars paid homage to one of the most famous tuners in Chevrolet history, Don Yenko, by turning a tired 1971 Chevy Nova into a fire breathing Yenko SYC Nova clone. Powering this car is a BluePrint Engines 383 Cubic Inch Stroker Fuel Injected Engine. Equipped with aluminum cylinder heads, hydraulic roller camshaft, and a FAST EZ-EFI fuel injection system, this small block cranks out 430 horsepower and 450 pounds-foot of torque.
Product Link
Summit Racing also offers Counting Cars Combos that let you recreate recreate some of the signature rides from the series. Summit Racing's team of experts has bundled together parts combos that allow enthusiasts to build their own project vehicle with the very same components used by the Count's Kustoms team. For instance, a brake combo might include rotors, booster, master cylinder and proportioning valve. All the parts in each combo are also available individually.
Summit Racing Equipment
SummitRacing.com
1-800-230-3030