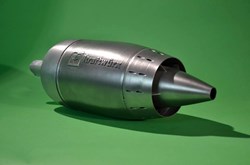 New York, NY (PRWEB) September 20, 2013
With Maker Faire just days away, there will be plenty to see at the Greatest Show and Tell on Earth. It's a celebration of innovation, creativity and what's called the "maker movement."
One of the companies that will be on display again this year is Kraftwurx, a cutting-edge Houston-based 3D printing company that is set to unveil Digital Factory™ to create a complete ecosystem for anyone who wants to create and upload 3D-printable designs or start a 3D printing-based business without significant investment.
The company has an interesting model, connects designers to a healthy network of over 125 printing bureaus from all around the world and offers an industry-leading 85 different materials. Want to print something in fire-glazed ceramic? They have that. How about fire-resistant thermoplastic? They have that, too—as well as just about every metal imaginable, including gold, platinum, and palladium.
Kraftwurx's CEO, Chris Norman, has been working on his dream to build a "fully automated system that allows consumers to build their own products through the Internet and see the result of their orders in real time" since 2001. He's amassed a variety of patents on his unique system, and is committed to driving the 3D printing revolution forward.
"Our business model uses independent 3D printing facilities located around the world to produce parts locally because they have excess capacity and experience with printers. We put money into people's pockets in local communities by supporting local 3D printing," says Norman.
Kraftwurx provides its services in several different ways. Designers can upload and print their own models using Kraftwurx as a Personal Factory™. You can also publish designs retail on Kraftwurx.com and sell them retail (as well as inside Facebook shops), and Kraftwurx even handles the shipping for you. Members don't even need to know how to design a 3D model; they can use Kraftwurx's "crowdsourcing" initiative (think 99designs.com for the 3D printing world) and hire Krafters to model things for them within the site.
Kraftwurx is set apart from the other 3D printing websites by Digital Factory™ which they are capable of licensing to individual entrepreneurs, businesses and even big-name brands like Disney and Hasbro. Within ,designers can set up their own web store on their own domains, selling their own products without the hassle of managing production runs or carrying inventory. It's quite literally a business-in-a-box.
This technology isn't just for designing consumer products; engineers and architects are using 3D printing to prototype designs or pieces before starting mass production. Kraftwurx's 3D printing can help prototype products for a fraction of the cost of a more traditional manufacturing route.
"We're really poised well for the short-run manufacturing world out there. Think about how many classic car parts or replacement parts for appliances we could be doing for companies with zero inventory," says Norman.
Kraftwurx will be on display at the Maker Faire show in booth #PV24 September 21 and 22, 2013 in the New York Hall of Science, 111th St. New York, NY.
About Kraftwurx
Kraftwurx is a cutting-edge 3D printing company based in Houston, Texas that is developing patented technology to empower designers and engineers around the world to produce innovations on-demand with their Digital Factory™ system.
The company was founded in 2006 by Manufacturing Engineer Chris Norman and Businessman Kevin Hasley. We're not new to this game, we're actually the oldest. While it's not always best to be first, we've watched and learned from the mistakes of others, and have consistently improved upon them. Kraftwurx is networked to over 120 printing bureaus around the world, which reduces transportation and shipping costs.