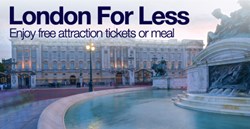 (PRWEB UK) 26 September 2013
This autumn, short break specialist Superbreak are offering more ways for customers to save by introducing free theatre tickets to their popular London for Less deal. Available today until Thursday 14th November 2013, customers will be able to add 'The Ladykillers' theatre tickets when booking a two night London break. For an additional saving, customers will also receive a complimentary London river cruise when booking by Thursday 31st October 2013.
Since its launch in 2007, the London for Less deal has continued to be a successful product with last year's Wizard of Oz theatre ticket offer being particularly popular with customers. The London for Less deal provides consumers with the chance to visit the capital on a two night hotel break with an attraction, sightseeing or dining ticket of their choice included. The addition of 'The Ladykillers' theatre tickets to this offer means Superbreak can provide even more choice and value for its customers.
'The Ladykillers' theatre tickets are available to book with a choice of over 250+ central London hotels with a choice of matinee or evening performances. Starring Graham Linehan from I.T Crowd and Father Ted, 'The Ladykillers' is a hit stage adaptation of the original 1955 film. Described as a classic black comedy with a feel-good twist, this London for Less theatre offer will run until Thursday 14th November 2013. Packages start from just £119 per person for a two night stay at a 3* London hotel, complimentary Ladykillers theatre tickets and free river cruise tickets.
London remains a key destination for Superbreak with London for Less packages sales for 2013 already encouraging. The most popular London for Less products of 2013 so far are the London by Night Tour Bus and the Queen's Gallery at Buckingham Palace tickets, closely followed by Planet Hollywood and Tandoori Nights dining tickets.
About Superbreak:
Superbreak is the internet division of Superbreak Mini Holidays Limited, the market leader for short breaks. Superbreak is part of Holiday Break plc. Based in York, England, Superbreak specialises in booking city breaks in 2-5 star hotel accommodation throughout Britain for the leisure traveller. Superbreak also work with various travel providers offering a range of rail breaks, P&O mini cruise breaks, flights & more.
With 5000 plus hotel partners in worldwide locations from Manchester to Brighton, from London to Paris and with great availability and rates for theatre breaks, events at the O2 Arena, various popular attractions and national and international rail partners, Superbreak can offer an outstanding depth and breadth of UK and Overseas short break products.
Note to Editors
We authorise the republication of this content with the condition that a link to Superbreak is included: http://www.superbreak.com