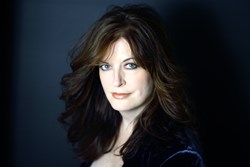 Baltimore, MD (PRWEB) September 20, 2013
Principal Pops Conductor Jack Everly kicks off his 11th Pops season with the Baltimore Symphony Orchestra (BSO) in The Streisand Songbook with Ann Hampton Callaway on Thursday, October 10 at 8 p.m. at the Music Center at Strathmore, Friday, October 11 and Saturday, October 12 at 8 p.m. at the Joseph Meyerhoff Symphony Hall, and Sunday, October 13 at 3 p.m. at the Meyerhoff. Singer-songwriter Ann Hampton Callaway will sing some of Barbra Streisand's biggest hits, including favorites from Broadway musicals as Funny Girl to film hits such as A Star is Born. Furthermore, Maestro Everly will lead Callaway in a post-concert performance in the Meyerhoff lobby on Friday, October 11. Please see below for complete program details.
Tony-nominated actress Ann Hampton Callaway enjoys a professional relationship with Barbra Streisand and has written some of her most popular songs over the years. Callaway is known for putting a unique pop/jazz twist on Streisand's songs, but is best known to BSO patrons as the witty and golden-voiced host of the 2009 Holiday Spectacular. Some songs that Callaway wrote for Streisand include I've Dreamed of You, At the Same Time, and Christmas Lullaby. Throughout the performance, Callaway will tell stories and anecdotes of how Streisand became a mentor for her through singing and recording many of the songs that she wrote for her.
Jack Everly, conductor
Jack Everly is the principal pops conductor of the Baltimore and Indianapolis Symphony Orchestras, Naples Philharmonic Orchestra and National Arts Centre Orchestra (Ottawa), and the music director of the National Memorial Day Concert and A Capitol Fourth on PBS. He has been on stage with the Los Angeles Philharmonic at the Hollywood Bowl, The New York Pops at Carnegie Hall and appears regularly with The Cleveland Orchestra at Blossom Music Center. His frequent guest conducting engagements include the orchestras of Pittsburgh, Edmonton, Oklahoma City and this season with The Philadelphia Orchestra at The Mann Center.
Everly is the music director of Yuletide Celebration, now a 26-year tradition. These theatrical symphonic holiday concerts are presented annually in December in Indianapolis and are seen by more than 40,000 concert-goers. He led the ISO in its first Pops recording, Yuletide Celebration, Volume One, that included three of his own arrangements.
Originally appointed by Mikhail Baryshnikov, Everly was conductor of the American Ballet Theatre for 14 years, where he served as music director. In addition to his ABT tenure, he teamed with Marvin Hamlisch in Broadway shows that Mr. Hamlisch scored including, The Goodbye Girl, They're Playing Our Song and A Chorus Line. He conducted Carol Channing hundreds of times in Hello, Dolly! in two separate Broadway productions.
Everly has conducted the songs for Disney's animated classic The Hunchback of Notre Dame and led the Czech Philharmonic on the recordings In the Presence, featuring tenor Daniel Rodriguez and Sandi Patty's 2011 release Broadway Stories. He also conducted the critically-praised Everything's Coming Up Roses: The Complete Overtures of Broadway's Jule Styne, and was music director for numerous Broadway cast recordings.
In 1998, Everly created the Symphonic Pops Consortium, serving as music director. The Consortium, based in Indianapolis, produces new theatrical pops programs, and in the past 13 years, more than 250 performances of SPC programs have taken place across the U.S. and Canada.
Maestro Everly holds an Honorary Doctorate of Arts from Franklin College in his home state of Indiana. When not on the podium or arranging, Maestro Everly indulges in his love for films, Häagen-Dazs and a pooch named Max.
Ann Hampton Callaway, vocalist
One of the leading champions of the great American Songbook, has made her mark as a singer, pianist, composer, lyricist, arranger, actress, educator, TV host and producer. She won the Theater World Award and received a Tony nomination for her starring role in the Broadway musical "Swing!" Ann made her Hollywood screen debut in Robert DeNiro's "The Good Shepherd" and was featured in the soundtrack of Queen Latifah's "Last Holiday". She's written over 250 songs including two Platinum Award winning hits for Barbra Streisand and the theme for the hit TV series "The Nanny." Ann produced and hosted two TV specials called "Singer's Spotlight" with guests Liza Minnelli and Christine Ebersole and is in the planning stages for a radio series.
She performs the critically acclaimed acts "Sibling Revelry" and "Boom!" with Broadway star and sister Liz Callaway and their CD "Boom! Live at Birdland" was released to rave reviews debuting at #25 on The Billboard Jazz Chart. This year, Ann has taken the symphony world by storm with her tribute to her legendary mentor in "The Streisand Songbook" which she premiered with The Boston Pops and will be touring nationwide through 2013-14. Ann has recorded 12 solo CD's including the celebrated "At Last" and is a guest artist on more than 45 CDs.
COMPLETE PROGRAM DETAILS
The Streisand Songbook with Ann Hampton Callaway
Thursday, October 10, 2013 at 8 p.m. – The Music Center at Strathmore
Friday, October 11, 2013 at 8 p.m. – Joseph Meyerhoff Symphony Hall (JMSH)
Saturday, October 12, 2013 at 8 p.m. - JMSH
Sunday, October 13, 2013 at 3 p.m. – JMSH
Jack Everly, conductor
Ann Hampton Callaway, vocalist
Tickets range from $29 to $94 and are available through the BSO Ticket Office, 410.783.8000 or
BSOmusic.org.
###