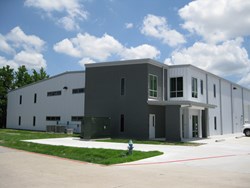 Houston, Texas (PRWEB) September 20, 2013
Greene, Tweed has opened a Quick Response Center (QRC) dedicated to providing WR® and AR® thermoplastic composite wear parts in as little as 24 hours. The facility is located in Houston and streamlines processing of WR and AR bushings, bearings and wear rings. The result is minimized downtime during a failure and enhanced future reliability and up-time for pump users.
The Gulf of Mexico is home to a significant number of refineries, representing over 40% of the nation's total refining capacity. It is also home to numerous chemical plants which produce the building blocks for everything from garbage bags to medical devices. Each refinery and plant has a preventative maintenance plan for its pumps, but unexpected failures still occur. When they do, plants are forced to run at reduced capacity, or in some cases, to shut down. The resulting loss in productivity can amount to hundreds of thousands of dollars, and can also endanger personnel.
Greene, Tweed has provided WR and AR wear parts for several years, but fulfilling orders has traditionally taken two to six weeks. For a refinery or chemical plant with a pump failure, the stakes are too high to wait that long. "Our QRC team and facility are positioned to respond to every situation with urgency," says Global Sales Manager David Gillies. "It solves real life, high-consequence needs for our customers."
The QRC facility took six months to build and one year to plan. Covering 28,000 square feet, it leaves ample room for expansion down the road. "There's a lot of potential to expand the capability to other products," says Dave Noblin, engineering manager for the petrochemical and power business. "This could include spring-energized lip seals, thermoplastic labyrinth seals, or valve stem packings – components that may have a need to turnaround quickly."
"There are decades and decades of refineries in situ, so the need for services that help keep those running is substantial," says Gillies. "I think there are fantastic opportunities to advance the industry with this capability."
Greene, Tweed's QRC launched in July 2013 and is currently taking orders. More information can be found at http://www.gtweed.com, or by calling 1-800-820-9005.
Greene, Tweed leverages expertise in a variety of markets and products to give customers the most innovative solutions to meet performance challenges and reduce total cost of operation. With fully qualified engineering, sales and support personnel located throughout the Americas, Europe and Asia, Greene, Tweed delivers solutions to individual customer applications on a global scope. Greene, Tweed products are sold and distributed worldwide. For additional information, contact Greene, Tweed at +1.215.256.9521 or visit our website at http://www.gtweed.com.