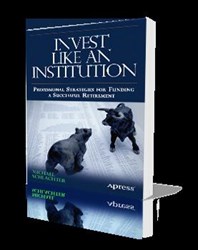 "My advice comes from the perspective of what the really large, market-moving, and successful investors do" - Michael Schlachter
New York, NY (PRWEB) September 26, 2013
All too often, when investors go in search of investment advice, they are met with television personalities and so-called investment "gurus" who do little more than push the latest and greatest scheme to retire rich. Retirement funds—in the form of IRAs, 401(k)s, SEP or Simple IRAs, and others—are, however, far too precious to bet on the latest scheme, trend, or tip heard at a party. In "Invest Like an Institution: Professional Strategies for Funding a Successful Retirement," recently published by Apress Media, Michael Schlachter provides individual investors with the tools they need to build a portfolio that not only protects their wealth, but helps it grow for the long term. The result? A comfortable retirement in which investors can pursue their dreams and check "bucket list" items off at their leisure.
As an advisor to large pension funds and endowments, Schlachter counts among his clients the elite. Institutional investors like the retirement systems of states and major companies, as well as the largest university endowments, are among the few that consistently outperform the market. Average retail investors can't make the same types of private deals in real estate, private equity, or hedge funds that institutional investors use to reap large returns or offset market volatility. But as this book demonstrates, investors can replicate in their own portfolios the very same diversification strategies that large funds employ to achieve long-term gains. "My advice comes from the perspective of what the really large, market-moving, and successful investors do," says Schlachter. His book analyzes the importance of asset allocation and consistent retirement contributions, the merits of a global portfolio versus those of a home country–biased portfolio, how newer investment strategies are used by institutional investors, why fixed-income investments are not as safe as most investors think, and the best alternative asset classes that are readily available to individual investors, among other topics.
"Invest Like an Institution" shows how to build a portfolio that is every bit as diversified and risk-controlled as a multi-billion-dollar institutional fund—and a portfolio more likely to result in a happy, financially secure retirement.
For more information on "Invest Like an Institution," please visit http://www.apress.com/9781430250593.

ISBN 978-1-4302-5059-3
228 pages
User Level: Beginner to Advanced
Publication Date: August 28, 2013
Available eBook Formats : EPUB, MOBI, PDF
Print Book Price : $29.99
eBook Price: $20.99
About the Author
Michael C. Schlachter is a Managing Director and Principal at Wilshire Associates, a diversified financial services company, and the lead investment consultant to many of the largest pension plans in the United States. Previously, he worked for several years as an equity analyst and trader at Goldman Sachs. Schlachter's experience working as both a hands-on securities analyst/trader and a high-level investment consultant has given him an understanding of the investment industry that ranges from the 40,000-foot view right down to the weeds. He has been quoted extensively in the Wall Street Journal, the Financial Times, USA Today, the Washington Post, Time Magazine, Bloomberg, and the Los Angeles Times, among many others. Schlachter earned an MBA at the University of Chicago's Graduate School of Business and an undergraduate degree from Princeton University.
About Apress Media
With more than 1,500 books in print and e-formats, Apress is the authoritative source for IT professionals, software developers, and business leaders all over the world. Apress provides high-quality, no-fluff content that helps serious technology professionals build a comprehensive pathway to career success. Since 2007, Apress has been part of Springer Science+Business Media, one of the world's leading scientific, technical, and medical publishing houses, enabling global distribution of Apress publications. For more information, please visit http://www.apress.com.