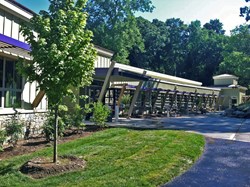 Green classrooms create healthier, higher performing, and more environmentally friendly learning environments. - Scott BezsylkoExecutive DirectorWinston Preparatory School
Norwalk, CT (PRWEB) September 20, 2013
Winston Preparatory School, a day school in Chelsea, New York and Norwalk, Connecticut will celebrate tomorrow its newest and most environmentally progressive building on its Norwalk campus. In attendance will be Norwalk Mayor Richard Moccia and State Senator Bob Duff as well as the school's leaders and board of trustees.
Winston specializes in offering an individualized education for students with learning differences and the new LEED candidate (Leadership in Energy & Environmental Design) building will greatly support this specialty.
"Green classrooms create healthier, higher performing, and more environmentally friendly learning environments," says Executive Director Scott Bezsylko. "When you match the potential of the kids with a space that's really great—instead of the stereotypical building, we have created a colony of learners."
The event takes place September 21 from 6-8pm at 57 West Rocks Road.
###
Winston educates students from a board region of CT and NY who have previously struggled with learning disorders like dyslexia and ADHD. At WPS they find success and confidence that allows 90% of them to go on to college.