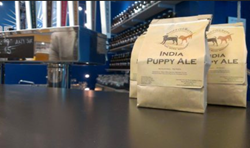 We'll be handing out samples of SniffingButt's doggy treats and selling bags of treats at a huge discount.
McLean, VA (PRWEB) September 20, 2013
Dog lovers everywhere and their four-legged companions are celebrating the launch of the company's SniffingButt Dog Bone Brewery North American website, featuring the start-up's initial menu of year-round flavors for its fine craft beer grain dog treats.
The brainchild of entrepreneur and dog lover Jeff Lutton, SniffingButt Dog Bone Brewery takes his special recipe dog treat brewery to the Internet so pet owners throughout North America can share the love of Lutton's organic dog treats with their furry companions anytime, anywhere, (except an actual brewery, that is.)
"By embracing our need to please our pups and our own devotion to great craft beers, we set out to collect the daily supplies of spent grain—the recycled byproduct of the beer-making process—from local breweries that humans and animals have been eating safely (and deliciously) for years.
"We've developed some great dog-friendly recipes to launch our year-round line of treats, with some seasonal treats to follow shortly."
In the craft brewing process, malted grains are soaked in water to extract the sugars from the grain; the water is removed to make into beer and the spent grain is usually discarded. Lutton recycles the grain, and the resulting doggy treats are organic, alcohol- and hops-free.
SniffingButt Dog Bone Brewery offers a variety of year-round spent grain doggy treats including:

India Puppy Ale dog treats are a rich copper colored bone treat infused with flavors of malt and barley, and enhanced with delicious peanut butter. This balanced style of canine culinary deliciousness freshens the palate and elevates the pup's owner to godlike.
Pug Porter dog treats offer bittersweet flavors of peanut butter, with a very complex malt character. It fills the bowl with a rich brown hue.
Wheaten Wit dog treats are a pale golden color with a bit of cloudy haze. Brewed in the Belgian Wit Bone tradition, with raw wheat and oats, and steeped in peanut butter, this unfiltered treat offers layers of complex, nuanced flavors that finishes crisp and refreshes the palate.
According to Lutton, more flavors will be added to the brewery's year round menu of craft beer grain dog treats, and they will soon be introducing a line of puppy-pleasing seasonal treats too. SniffingButts Dog Bone Brewery also offers a line of merchandise to please everyone.
For more information, visit the SniffingButt Dog Bone Brewery website, email jeff(at)beergraindogtreats(dot)com, or call 571-594-7660.
###