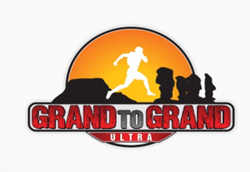 Participants must carry their own food, sleeping gear and other equipment on their backs during the grueling run.
Kanab, Utah (PRWEB) September 20, 2013
Ultra Challenge America LLC is pleased to announce the second Grand to Grand Ultra, which will take place from September 22 through September 28, 2013. This unique event is a 6-stage, 7 day, self-supported footrace. It will be held in the states of Utah and Arizona in the USA, covering a cumulative distance of approximately 169 miles (273 km). The race is open to runners and walkers.
The 169 mile course route begins at the awe-inspiring north rim of the Grand Canyon, one of the Seven Natural Wonders of the World, and finishes on the summit of the Grand Staircase, one of the world's most iconic geological formations. The course takes participants through a desert landscape of sand dunes, red rock canyons, buttes, mesas and hoodoos. Participants will navigate through compelling slot canyons and cross a tributary of the Virgin River. They will experience the remotest part of continental America in the way of the earliest settlers, Navajo and Paiute Indian tribes.
The field of participants from all over the world will come together for this challenging event, assuming the responsibility of carrying their own backpacks containing food, sleeping bag, mat and other mandatory equipment for the week. Participants can elect to compete as individuals or teams. Participants are expected to possess basic outdoor survival skills such as familiarity with outdoor gear and backpacking. However, they are not required to possess any technical navigational or climbing skills to take part in the Event. 120 entrants from 24 countries will start.
The awards party in Las Vegas promises to be the ideal celebration after a week in the desert.
The event is proud to support the charity impossible2Possible, a non-profit organization dedicated to inspiring, educating, and equipping a generation of young global problem solvers to reach beyond their perceived limits and make positive change in the world. The Grand to Grand Ultra will support this charity by contributing a portion of its profits. http://www.impossible2possible.com
Registration for 2013 has closed however it is now open for 2014. Advance registration is required and early registration is strongly recommended for this event given the quotas for different countries. Please visit the event website at http://www.g2gultra.com for more information and complete registration details.
Please follow the build up to the event on Facebook https://www.facebook.com/g2gultra and also on Twitter http://twitter.com/g2gultra .
For more information or for media wishing to cover the event, please contact Colin Geddes, 954-504-0785 or email info(at)g2gultra(dot)com.