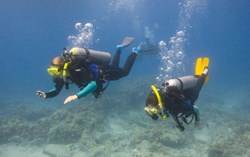 This tropical adventure by Wilderness Ventures gives young people the chance to explore tropical paradises and rich cultures.
Jackson, Wyo. (PRWEB) September 20, 2013
Wilderness Ventures, the longest running and most experienced adventure travel program offering teen summer camps, gives teen travelers the chance to be underwater explorers on their diving expeditions. Along with the opportunity to explore some of the world's most beautiful underwater seascapes, teens can take diving courses to earn their PADI scuba diving certification. Working with professional, skilled diving instructors, teen adventurers who are beginner or novice divers can perfect their skills in exciting destinations around the world.
Kauai, Hawaii: On this Wilderness Ventures teen trip, young people spend 5 days taking a scuba diving course in the beautiful waters of Kauai. In addition to scuba lessons and earning certification, students also enjoy other unforgettable adventures like surfing and kayaking on Hanalei Bay, exploring the Na Pali Coast, working alongside native Hawaiians on a volunteer program, sailing and snorkeling on the big island, hiking across the Kilauea Volcano and more.
Costa Rica & Belize: This tropical adventure by Wilderness Ventures gives young people the chance to explore the tropical paradise and rich cultures of these two countries. Teens on this journey scuba dive in Belize in the world's second largest barrier reef while earning diving certification. Other highlights include receiving introductory lessons in the Spanish language, exploring Rincon de la Vieja Volcano National Park, rafting and zipling on the Pacuare River, exploring Belize's temples and caves, and helping with marine research on a local conservation project.
Australia & Fiji: On the 'life lists' of many divers, the Great Barrier Reef in Australia is one of the world's most famous natural wonders and the largest barrier reef in the world. This trip gives teens the chance to earn Scuba certification in this world renowned diving destination. The trip also gives teens the chance to sail and surf in Fiji, volunteer in Highlands Village, sea kayak the Barnard Islands, raft the Tully River, experience Aboriginal customs, explore Sydney and much more.
Thailand Service: This Thailand Service adventure offers young people an unparalleled opportunity to explore the wildlife, temples, and culture of this unique country while participating in volunteer programs and earning scuba diving certification on Koh Tao Island. Tour highlights include rock climbing in the Mae On Valley, lending a hand to local villagers, taking Thai cooking lessons, whitewater rafting the Mae Taeng River, working with elephants, visiting Buddhist monasteries, and more.
About Wilderness Ventures:
Pioneering outdoor adventures for young adults and with more than 21,000 student alumni, Wilderness Ventures has paved the way for domestic and international teen adventure travel. Wilderness Ventures four decades of unwavering values of community, wholesome environments, safety, wilderness education, conservation, and exploration have resulted in an unmatched and trusted reputation.
###