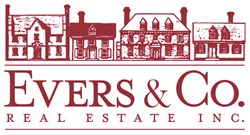 Washington, DC (PRWEB) September 20, 2013
The Washington-DC real estate market continues to show steady gains in dollar volume of sales and the number of buyers in the market, putting pressure on housing demand even as prices continue to climb. August 2013 numbers support a strengthening market as dollar volume of sales increased by 26 percent, the average sale price increased by 6.4 percent and the number of days on the market decreased by a third compared to 2012 numbers.*
"Consumer confidence has been back for a while and it's growing more than ever," says Donna Evers, president and broker of Evers & Co. Real Estate. "The whole country is gaining and the housing market is coming back across the nation."
Although this year has marked an upward trend in the health of the housing market throughout the nation, it is especially significant for the metro area, where the median home costs more than twice the national median price.
August 2013 real estate statistics also show the median price for a single-family home in the metro area is $600,000, compared to the national median price of $214,000. The average price of a metro area family home is even higher, reaching $763,000.
"Even though incomes are high here and we have an extremely prosperous marketplace for housing with high numbers of people employed, we still have expensive real estate," says Evers. "You have to look at that in context and realize that it's a pretty tough market and it's thriving despite that."
The numbers support Evers' prediction for a strong fall for the housing market and indicate that both buyers and sellers will continue to see robust numbers going into the end of the year.
*Statistics are taken from the Metropolitan Regional Information System for three areas: Washington, D.C.; Montgomery County in Maryland; and Fairfax County, Arlington, Alexandria and Falls Church in Virginia.
# # #
About Evers & Co.
Founded in 1985 by Donna Evers, Evers & Co. Real Estate, Inc. maintains its success through a strong referral base and agents who enjoy a premier reputation for their expertise and in-depth knowledge of Washington Metro Area homes and neighborhoods. Evers & Co. is home to more than 100 licensed real estate professionals with decades of combined experience, who enjoy access to a first-of-its-kind Agent Resource Center. The agency is the largest woman-owned and-operated residential real estate firm in the area and a member of Unique Homes Affiliate Network, Who's Who in Luxury Real Estate and FIABCI, the largest international real estate organization in the world. In addition, the agency has an alliance with My Home In Paris, a residential real estate firm in Paris, France. For more information about Evers & Co. Real Estate, visit http://www.eversco.com.