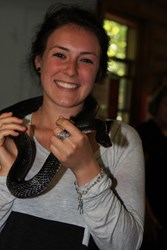 Overcoming their fear and misconceptions about these animals also helps our students see themselves in a different light. - Steve O'Neill, Ecology Expert.
Lake Toxaway, NC (PRWEB) September 24, 2013
Trails Carolina's wilderness program introduced an innovative curriculum where troubled youth relate to misunderstood animals. Students at Trails have been positively impacted by this curriculum and it may have value for troubled teens in other settings to make a difference in instilling more positive behaviors.
Studies have shown that animal assisted therapy and relationships with animal companions in general provide an improvement in physical, emotional and psychological well-being. Trails advanced this research by building a curriculum where students interact and engage with misunderstood animals and parallel this experience to their own.
"We learned as children to hate snakes, turtles, possums and the like and we've been taught that they're bad," says Steve O'Neil, Trails' Ecology Expert. "Most of our students come in with a lot of fear and within minutes they're holding a snake. Overcoming their fear and misconceptions about these animals also helps our students see themselves in a different light."
Similar to these animals, the troubled youth of Trails are facing their own misunderstandings of the world and how people perceive them. By gaining a better understanding of the ecological value of these misunderstood animals students gain a better understanding of their own value and how their behaviors and actions are often misunderstood. This curriculum helps students build confidence in themselves and better understand how to communicate with others.
"Many of our students find parallels in the misplaced perceptions on these unique animals and the misplaced perceptions many people have of them," says Trails founder and Executive Director Graham Shannonhouse, "Having these misunderstood animals on campus has been tremendously therapeutic for our troubled youth and we think other schools and programs could benefit by utilizing a similar curriculum."
Students at Trails have shared how they do not feel heard or have kept their worries to themselves rather than sharing with family members or friends. Often this sense of isolation led to depression, anxiety, problems at school or home, negative peer relationships, and an overall sense of not being seen for who they are.
Trails teacher and ecology expert Mr. O'Neill described how their therapeutic process can be analogous to that of the turtle. "Like turtles, these students wear their protective shells whether it's conflicts at home or school or not being aware of their own direction."
For decades, studies have shown the effects of using animals as a therapeutic tool to help troubled teens improve self-esteem and self-concept.
Over time, the troubled youth at Trails apply the lessons learned from these unique animals and combine it with the therapeutic wilderness lessons to develop lasting behavioral changes. The academic curriculum
"The impact these animals have on our students can be pretty incredible," commented Mr. O'Neill, "We are proud to have unique and wonderful students and animals."
To learn more about Trails Carolina and their innovative academic curriculum, call 800-975-7303.
Trails Carolina (http://www.TrailsCarolina.com) uses decades of experience to provide teens a clinically driven, family focused therapeutic wilderness program. Trails helps teens address their problematic behaviors and as a result creates lasting change for families. Trails staff integrates research, experience, and a values-based team approach in wilderness and residential settings to help teens develop lasting coping skills. Programs are for boys and girls ages 10 – 13 and 14 – 17. For more information about Trails Carolina, please visit our website at http://www.trailscarolina.com or call us toll free at (800) 975-7303.