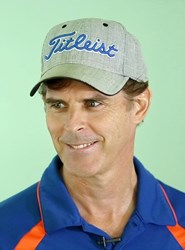 I will become an All-Star in Major League Baseball
Orlando, Florida (PRWEB) September 25, 2013
See Tom Wright's new (just released) 2014 Baseball YouTube Video:
http://www.youtube.com/watch?v=TiiabjPActo
Tom grabbed National News attention (Fox & Friends, etc.) this year when he tried out for the Los Angeles Dodgers in March at their spring training facility in Arizona. At the try-out Tommy Lasorda saw him pitch and said, "Well, he's got a good fastball."
Tom is a former outfielder who went to Major League Spring Training with the New York Yankees at 36 years of age. He can hit a baseball over 500 feet (very few people who have ever played the game can hit the ball this far), and feels like he could have "set records in the Major Leagues", yet he was never given a legitimate opportunity to play, either in college or in professional baseball, because he stepped away from the game for a time. Tom was on the swim team in college, and served a two-year full-time Mission for his Church.
After his Mission Tom returned to baseball, but college and professional teams would not let him play because of his age. When Tom asked one of the college coaches (the head coach) why he was being cut, the coach replied, "Because you are closer to my age than that of the other players." Just a couple weeks ago a scout from the Atlanta Braves called Tom and said he just saw his new YouTube Video, and told him he was impressed by his knuckleball. The scout then asked Tom how old he was, when Tom replied "54", the scout promptly hung up the phone without even saying another word.
Tom has been working on his knuckleball since he was a kid; he can throw it with consistent movement and over the plate for strikes. In his new YouTube Video he has some of the best slow-motion footage ever taken of the knuckleball; you can see the ball floating through the air with little or no spin, and stunning movement. Tom will throw over 20,000 knuckleballs in 2013, and he throws them in the 50's, 60's and 70's (mph), so the batter never knows what is coming. In addition to his knuckleball, Tom also has a fastball and slider that he throws between 80-90 miles per hour.
Tom is one of the strongest players in baseball; he can dead lift over 500 pounds. In his new video (shot just a month ago) he dead lifts 418 pounds four times, without even using a weight belt. When he has trained hard for strength in the past he has dead lifted over 600 pounds; and he has squatted 500 pounds in competition, so we know this is his legitimate strength. Tom is humble enough to know his health and strength and skill are blessings from God.
Tom's knuckleball and abilities have been creating interest from many of the Major League Teams in 2013, including the Marlins, Dodgers, Cubs, Rockies, and Pirates. This year Tom wrote thousands of emails, one at a time, to almost all the Major League Team's management, including the scouts and owners, and he is exchanging emails with many of them. Some of the MLB Team representatives tell him to go play in an Independent League, and say if he puts up some good numbers there they will invite him to Major League Spring Training. But, when he goes and talks to the Independent Teams they follow the lead of the MLB Teams, and will not let him play.
Can someone really be one of the best in the world in a professional sport in their 50's? Does Tom have a legitimate chance of playing in Major League Baseball in 2014? This is a story that captivates our attention. Take a look at the video entitled, "Let Him Play"; you will be amazed by Tom's story and what he can do:
http://www.youtube.com/watch?v=TiiabjPActo
This YouTube clip includes the abbreviated version of the Interview. For the full version contact Tom.
To contact Tom Wright:
Cell Phone – 321-230-6846
Email – gagabaseball(at)gmail(dot)com