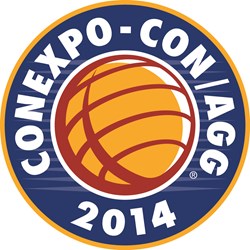 (PRWEB) September 20, 2013
CONEXPO-CON/AGG, the largest construction equipment trade show in North America, wants to publicly show appreciation to the construction contractors who continue in this tough economy to build our quality of life.
The construction industry suffered more than most other economic sectors in the Great Recession and the recovery is still struggling as demonstrated by these figures:

Employment fell further and longer in construction (residential plus nonresidential) than in any other sector. Employment declined for nearly five years, by 1.9 million or 25% from 7.7 million in April 2006, seasonally adjusted, to 5.4 million in January 2011. By August 2013, the industry had regained fewer than 400,000 jobs.
Construction spending totaled $857 billion in 2012, a 9% increase from 2011 but 27% below the peak year of 2006. Public construction spending totaled $279 billion (down 3% from 2011); private nonresidential spending, $298 billion (up 16% from 2011); and private residential, $280 billion (up 16% from 2011).
Nevertheless, the industry perseveres and continues to build our quality of life. CONEXPO-CON/AGG is recognizing the accomplishments of the construction industry, through the Quality of Life Campaign. For example:

More stories such as these can be found online: at this link.
The participating contractors – up to 50 – will be publicly honored at a recognition event in Las Vegas, March 6, 2014. There is still an opportunity for contractors to participate. Each contractor and a guest will receive complimentary show admission plus airline tickets to Las Vegas and two nights in a hotel room.
The CONEXPO-CON/AGG Quality of Life Campaign is raising greater awareness of the accomplishments of the construction industry among all those who benefit from its work: vital improvements such as well-maintained and safe roads and bridges, upgraded and fully functioning clean-water and sewer capabilities, and improved facilities for recreation, health, transit and other services. The stories already developed are posted on the show website in the Media Services section.
Campaign-generated stories explain the positive benefits of construction projects of all sizes and descriptions across the United States, and CONEXPO-CON/AGG invites contractors and other industry professionals to submit projects demonstrating how their companies and their projects contribute to our quality of life. Just fill out a very brief form available on the show website landing home page, http://www.conexpoconagg.com.
Contractors whose projects fit the program will not only have the opportunity to garner publicity for their work; they will be recognized at the show.
When the campaign was first announced, Glen Tellock, the CONEXPO-CON/AGG 2014 chair and chairman and CEO of The Manitowoc Company, said this: "CONEXPO-CON/AGG 2014, as the global gathering place in North America every three years for the construction and construction materials industries, provides an ideal context for the culminating recognition event that will focus on the people of the construction industry and their significant contributions to our modern quality of life."
The stories submitted for the campaign can be from any segment of the construction industry (See http://www.conexpoconagg.com for more details). For more information on the program, or to contact participating contractors in these stories, please contact show management's Rich Jefferson (rjefferson(at)conexpoconagg(dot)com, tel: 414-298-4122).
CONEXPO-CON/AGG 2014 will be held March 4-8, 2014 at the Las Vegas Convention Center in Las Vegas, USA.