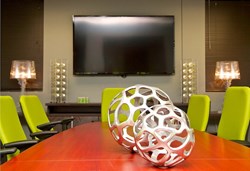 We're so proud of our stylish new facility and look forward to welcoming community leaders and guests to spend the morning gaining insight about the mission of ATRS. - ATRS Recycling Chief Marketing Officer Debra Stevenson Peganyee
Houston, Texas (PRWEB) September 20, 2013
American Textile Recycling Service (ATRS) opens its doors this month for the company's first-ever Open House Friday, September 27 from 11 a.m.- 2 p.m at 10739 W. Little York, Houston, Texas 77041. ATRS serves 11 markets nationwide and invites city officials, property management representatives and the media to tour its newly designed headquarters and warehouse.
Attendees will enjoy guided tours of the corporate offices designed in collaboration with Steelcase, the global leader in workspace innovation, and the company's 80,000 square foot grading and sorting facility while mingling with city and municipal representatives, solid waste industry officials from throughout Texas and vendors from the recycling industry. A pop-up upcycled fashion installation will be created especially for the event by noted Los Angeles stylist and owner of vintage boutique, Love Me Twice, Lehang Pederson. ATRS CEO, David M. Peganyee, Sr. will provide a brief welcome and introduce key executive directors from the company's charitable partner organizations including Houston Area Community Services and The Arc of Greater Houston. Refreshments will be served by some of Houston's favorite food vendors including the popular Coreano's Food Truck and Crave Cupcakes.
"We're so proud of our stylish new facility and look forward to welcoming community leaders and guests to spend the morning gaining insight about the mission of ATRS. From protecting the environment by diverting waste from landfills to working with key non-profit organizations to supporting families and communities with the resources that they need, we are here to serve our neighborhoods," says ATRS Recycling Chief Marketing Officer Debra Stevenson Peganyee.
ATRS is the fastest growing textile recycler in the U.S. whose socially responsible business model provides free textile recycling solutions for the public, job stimulation for local communities and abroad. To date, ATRS has donated over $4.5 million to worthy local charities and diverted over 177M pounds from neighborhood landfills. With 11 branches in 9 regions including Texas, Florida, Michigan, Tennessee, Atlanta, Oklahoma, Arizona, Colorado, and Southern California, ATRS is committed to keeping textile waste from local landfills and promoting a greener tomorrow.
Media Contact: pr(at)atrsonline(dot)com, 24-Hour Hotline: 866.900.9308.