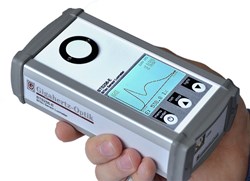 It's Not Your Traditional Illuminance Meter.
Newburyport, MA (PRWEB) September 24, 2013
Gigahertz-Optik's new BTS256-E Bi-Tec Sensor Light Meter provides all necessary illuminance, color and spectral data to fully qualify SSL, CFL and any other type light source.
Its Bi-Technology sensor includes a filtered photodiode and diode array spectrometer to significantly improve measurement accuracy and is precisely cosine corrected. The BTS256-E also features an integrated shutter enabling pixel-dark signal compensation for full utilization of the diode array detector dynamic range.
The BTS256-E is designed for lighting designers and engineers, field service personnel, health and safety officers involved in architectural, display, transportation, entertainment lighting applications.
It is ideal for those who need a small, compact, portable, affordable and easy to use measurement device especially when comparing SSL to traditional light sources.
The BTS256-E LED-Luxmeter at a glance:

Photopic & Scotopic Illuminance - Color - Spectral Meter for SSL
Scotopic / Photopic Ratio & EVE
CT Color Temperature
CRI Color Rendering Index Ra and R1 to R15
Irradiance
256-Pixel Diode Array Spectral Radiometer
Photometric Filtered Photodiode
Precise Cosine Corrected Field-of-View
Compact & Portable in Rugged Housing
On-Board Display for use without PC
USB2 Interface with Software for Remote PC Operation
Software Development Kits for full control under LabView