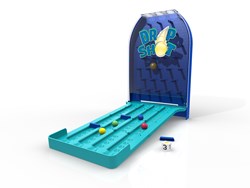 Drop Shot is an unpredictable 'race to the ramp top' game, a fun combination of luck and strategy.
Ottawa, ON (PRWEB) September 23, 2013
"Drop ShotTM is a great fit for PlaSmart's line of battery free, family friendly toys and games with features that help body and mind stimulation," says Tim Kimber, owner and CEO of PlaSmart Inc. "Its simple but sleek design make it easy to play at first glance, but Drop ShotTM actually takes careful manoeuvring in order for players to work their way up."
Equipped only with a yellow Drop ShotTM ball, one special die, four coloured marbles and three gates, Drop ShotTM consists of a ramp connected to a tower where the Drop ShotTM ball is released, guaranteeing a change to game dynamics in an instant.
A game for two to four players aged six and up, Drop ShotTM is a marbles-on-ramp game that pits player against player in a race to the top with the risk of getting knocked down by the Drop ShotTM ball. In the dash to the finish line, players roll the die to strategically move their selected marbles vertically and horizontally up the ramp. Players are challenged when opponents use gates to block their paths and also when one wrong die roll can lead to the Drop ShotTM ball's release and a risk of losing the marble's spot on the ramp. The first player to reach the top and survive the last chance drop wins.
Kids and adults alike love Drop ShotTM because it is an entertaining and easy-to-learn game where the obstacle randomness and the dropping of the yellow ball from the top of the tower can offer nail-biting fun given that no one knows whose marble will get knocked down next. Drop ShotTM is also very affordable, retailing for only $30 at specialty toy stores nationwide.
About PlaSmart Inc.
PlaSmart Inc. is a global toy distributor specializing in providing smart, simple, fun products that bring families together. PlaSmart's products include the multiple award winning toys and games: SquashedTM, the world's first cubic board game invented by a teenager; the now classic favourite PlasmaCarTM, the mechanical marvel powered by the cleanest and most inexhaustible energy source - kid power; the adorable pedal-free ride-on toys for toddlers PlasmaBikeTM and PlasmaBugTM; The Original DoodleArtTM, the intricate, black-and-white colour-it-yourself poster kit that recently celebrated its 40th anniversary; the hilariously creative board game MorphologyTM.
PlaSmart's products are available on five continents and in more than 60 countries.
For more information visit http://www.PlaSmarttoys.com.