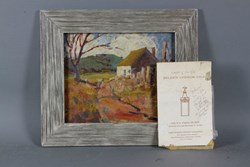 Beverly, MA (PRWEB) September 25, 2013
On October 13th, Sunday, Kaminski Auctions will host a combined sale featuring pieces from both the DéCoR and Fine Collections Auction series. The auction will feature a variety of fine pieces, including estate jewelry, paintings, early photography and an assortment of Continental and American furniture.
A painting by American artist Selden Connor Gile is expected to be the top lot of the auction. Gile was born in Stow, Maine but moved to the San Francisco Bay area and painted for most of his life. "He was the founder and leader of the Society of Six, a Bay Area group of artists known for their plein-air paintings and rich use of color, a quality that would later figure into the work of Bay Area figurative expressionists." Typical of the artist, the landscape painting is unsigned. However, information included on the back of the work makes it easy to attribute and track the provenance of the piece. The previous owner marked the piece with his own stamp, and also included a 1975 exhibition pamphlet documenting the original purchase of the piece from North Point Gallery in San Francisco. Now, at Kaminski Auctions, the colorful painting is expected to sell for $8,000 to $10,000.
The sale will also include a work from painter Johann Adalbert Angermeyer (1674-1740). The still life of a deer, birds, and an oyster captures the German artist's signature dark, yet highly detailed, style. The 13" by 20" piece is valued at $3,000 to $5,000. In addition, there is an oil on panel by Dutch artist Jan Jacob Coenraad Spohler (1837-1923) of ice skaters valued at $1500-$2000.
Photography collectors will be interested in a half plate ambrotype produced c.1870 of a blacksmith identified as Tyler Marston. The image was taken in Bridgewater, NH and is estimated at $5,000 to $7,000.
A sampler of the same period will also feature among the top lots of the sale. The sampler is academy done and signed "Ellen Hindle -1847." The silk on linen embroidery depicts colorful birds and pots of flowers, along with images of a plow and the large brick academy building. It is expected to sell for between $3,000 and $5,000.
Collections include a World War II photography collection, a variety of coin and stamp collections, and camera equipment and lenses. There are also a number of items from the estate of the realist painter Alexander Brook (1898-1980). A resident of New York and Sag Harbor, Long Island, Brook stopped painting in 1966, feeling his style of painting had fallen from fashion. His works are in included in the collections of the Whitney Museum of American Art in NYC, The Smithsonian Institute of Art Museum in Washington, D.C. and the Cleveland Museum to name a few.
Preview for this exceptional sale will take place Thursday, October 10th, from 10:00 a.m. to 5:00 p.m., Friday, October 11th, from 10:00 a.m. to 5:00 p.m., Saturday, October 12th, from 10:00 a.m. to 5:00 p.m., and beginning at 8:00 a.m. the day of sale, October 13th. For more information, visit http://www.kaminskiauctions.com or call 978-927-2223 ext 509.
KAMINSKI
Kaminski Auctions, located on the North Shore of Boston, has been serving the New England antiques market for over 25 years as a full service auction house and appraisal service for fine art, antiques and estates.
With two locations in Beverly, Massachusetts, including a new state of the art auction gallery located at 117 Elliott Street, and a historic 1850's barn and office facility at 564 Cabot Street, Kaminski Auctions hosts 25 auctions a year.
In today's highly competitive market of fine art and antiques, Kaminski Auctions provides its customers with bicoastal services and marketing with west coast offices in Beverly Hills and San Diego, California.
Kaminski Auctions offers specialty departments in Asian Art and Antiques, Silver, Glass and Lamps, Couture and Vintage Clothing, Photography and Modern Design. We have highly trained and knowledgable appraisers on staff that will help you determine the true value of your antiques, or entire collections. Free Appraisal days are offered every Tuesday from 10:00 a.m.- 4:30 p.m. at our 564 Cabot Street location in Beverly, Massachusetts & by appointment at our 5171 Santa Fe Street location in San Diego, California. We welcome emailed photos of your items!.
Contact: consignments(at)kaminskiauctions(dot)com.