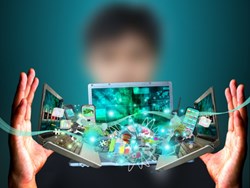 'VPN Gratis,' is being offered anonymously and for free to registrees of the early bird discount
Dallas, Texas (PRWEB) September 21, 2013
idcloak has proudly announced a prerelease version of its much awaited idcloak VPN: the company's flagship technology. This prerelease service, dubbed 'VPN Gratis,' is being offered anonymously and for free to registrees of the early bird discount for the full idcloak VPN.
idcloak says it will leave the early bird offer open for several more days.
A VPN is a software-based anonymous proxy system which allows its user to encrypt all internet traffic from their machine and reroute it to a secure server elsewhere in the world. From that new location, they may access sites and services which are normally unavailable in their real location, making a VPN ideal for unblocking censorship of any kind.
All internet activity from any internet-accessing program will also conceal their real IP address, so the user may interact with the internet anonymously.
There are many more uses for the VPN service, and an extensive list of the technology's possible functions has been published in the VPN Knowledge Center.
Gill-Chris Welles, Director of Marketing at idcloak, explains why idcloak is offering a VPN Gratis prerelease in advance of their official VPN launch, "Most of all, it's part of a package of thanks to our early bird subscribers; for their interest and their patience. It's right that the first in line get the first peek at our service and software.
"We also have a practical reason for offering a free version of our VPN in advance of the general release. If any of the VPN Gratis users contact us with constructive feedback on their experience, we promise to double their early bird discount on the general VPN release. We want to enlist the help of our users in spotting bugs before we take money for our service."
VPN Gratis will be available for a period of one week, ending on the release of idcloak's general VPN service, scheduled for the first week of October.
For more information, visit idcloak.com.