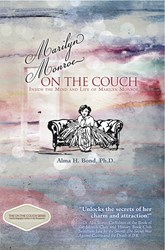 Baltimore, MD (PRWEB) September 23, 2013
If Marilyn Monroe were alive today, what would her life look like? Would she still be troubled by the demons of depression and addiction, or might she have had a real second chance? Ahead of the October 15th release of her new book, "Marilyn Monroe: On The Couch," Dr. Alma Bond took part in a written interview, in which she shared her frank but tender view of what the future of an American icon might have been like.
Marilyn was a woman known for courting great romance. In whose arms would she have wound up?
"She may well have remarried Joe Dimaggio, who, when you discount her fantasies, was the real love of her life. He was the best friend and sex partner she ever had, and they loved each other to the bitter end. What a tragedy that wife-beating is common in Sicily, which was Joe's heritage, and why he felt justified in beating her up when she allowed her "crotch to be visible all over New York" in the shooting of the famous subway wind-blowing scene of The Seven Year Itch! He learned better, and pleaded with her to remarry him, saying, 'I don't blame you for divorcing me. I would have done the same.' She left him because she couldn't tolerate physical abuse, for it brought back terrible memories of the brutality she had suffered in her childhood. I am sure Joe learned his lesson and never would have raised a hand to her again. He would have taken care of her, babied her, and become the father figure she yearned for all her life and never knew was there all the time for the taking."
What about children, would Marilyn have made time for a family?
"She never would have had children, because her endometriosis and repeated abortions destroyed her uterus. She wouldn't have adopted a child, for she knew in her heart that she was too much a child herself to take on the responsibility. But she loved Joe's son, Joe, Jr., as her own. If Joe Jr. had married during her lifetime and had children, Marilyn would have made a superb grandmother. She would have played with his kids, showered them with toys and pets, and then gone home. I suspect the Dimaggios would have divided their time between New York, where Marilyn would perform on Broadway, and San Francisco, which was Joe's true home. They might have bought a house in the Village, where Marilyn at long last would have had the home she craved and never really had."
Would her career continued to be illustrious? Would the shine have stayed on the diamond?
"If she were alive today at age 87, she would still be an extremely beautiful woman. Her older half-sister Berniece Miracle is. More important, she certainly would have continued to develop as an actress, and become more confident in her art. She would have become a great tragedienne, as Lee Strasburg predicted she would, and played the roles she always wanted to, such as Grushenka, in 'The Brothers Karamasov.' She would have made perhaps the greatest Lady Macbeth of all time. She also would have made the best Blanche Dubois ever in 'A Streetcar Named Desire.' She was made to play Blanche. What woman ever lived who could have understood that character better? Marilyn herself said that, when she grew old, she was looking forward to becoming a great character actress like Marie Dressler."
Marilyn's use of uppers and downers is a topic unto itself. Would her addictions to pills and alcohol continued into her later life?
"They surely were a substitute for the love she lacked as a child and never allowed herself to enjoy as an adult. As the beloved wife of Joe Dimaggio, she would have had less need for her addictions. He would have made her go into a 12-step recovery program, and because she loved him, she would have listened. She did when he took her out of Payne Whitney and placed her in a more amenable psychiatric setting. Because she had a reason to get well, she would have stuck with the program. I think, too, that she would have gone into psychoanalysis with an analyst who truly understood her and would not have spoiled her and broken all the rules of psychoanalysis because she was a celebrity, which is what her Los Angeles psychiatrist, Dr. Ralph Greenson, did."
What about her infamous escapades in the bedroom? Would she have tried to have her cake and eat it too, having marriage and living out her fantasies?
"She would have left her promiscuity behind her, because she and Joe enjoyed great sex, and she knew that infidelity was the one thing he would not have put up with in his wife. Also, as she became better known as a great actress, she would have had no need for a 'casting couch' to win parts. As she matured, she could have selected and starred in any play she chose. I suspect she eventually would have portrayed all the great Shakespeare heroines, and been wonderful, for example, as Portia and Kate.
"If only! How sad that Marilyn Monroe did not live long enough to develop her potential as a loving wife and great actress. The world is forever depleted by her loss. Such a genius comes along only once in a lifetime, and we'll never see her like again."
The book, set for release October 15th, promises a much deeper look into the life and death of an American legend. Despite the rumors and speculation surrounding Marilyn, there was a real human beneath the radiant character that lit up the silver screen; a complex and careful intellect, and a heart.
Bancroft Press, the book's publisher, has been a leader in independent publishing for more than twenty years.