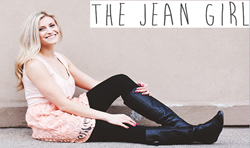 (PRWEB) September 23, 2013
Just three years ago the Jean Girl was introduced at home parties as well as events and fairs with an emphasis in selling jeans. With a special focus on selling jeans, the name of the upcoming business was called the Jean Girl; they then expanded into additional clothing items to keep up with demands. Soon the Jean Girl started adding maxi skirts, dresses, tops, shoes, colored skinny jeans, coats, cardigans, accessories, and much more to their collection.
At the beginning of this year, the Jean Girl took their business a step further, by escaping the home party scene, with the introduction of a their website, Thejeangirlshop.com to the online community. This way people could not only see the stylish products at home parties, but also browse online to find their outfits for anytime of the year. In order to keep their customers up-to-date on all their products they created social media accounts on Facebook, Pinterest, and Twitter.
After much success of their website it was time to take the Jean Girl to the next step to keep up with customers' demands. The Jean Girl opened a clothing store in Rexburg, Idaho where their customers could come and see the products . Now customers no longer had to wait for home parties, or to find people hosting those parties they could now go to the Jean Girl store. The Jean Girl has only been opened a little over two weeks and the response from both the customers and the community has been amazing.
The grand opening will be happening soon. With Rexburg being a college town, many students will benefit from trendy and affordable clothing that cannot be found anywhere else. Many of the products that the Jean Girl sells adds zest and style to the campus of Brigham Young University-Idaho which is within walking distance of the Jean Girl.
The Jean Girl's store can be found at 110 East 1st North in Rexburg, Idaho. They're opened Monday to Friday from 11 am to 5 pm and on Saturdays from 10 am to 6 pm with after-hours appointments are available as well.