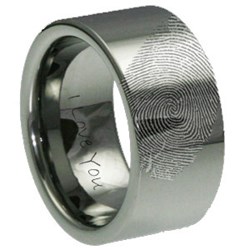 (PRWEB) September 21, 2013
http://www.ForeverMetals.com, a leader in tungsten rings, wedding bands and tungsten accessories, has a new website engraving option that will sure be popular with couples shopping for their special day. Both fingerprint engraving and personal handprint engraving is now available for no additional charge over the in stock engraving price point of $40. The Fingerprint engraving features a genuine fingerprint engraved onto the inner or outer diameter of the ring. The handprint is popular with couples as the person wearing the ring will always have a piece of their spouse with them at all times. The handprint engraving is also popular with those that want to feature a special message in their own handwriting.
Forever Metals likes to keep up with current market trends to gain new customers and maintain the current ones they have. The company prides themselves on the unique selection of rings offered through the company website. At last count the company carried well over 200 hundred ring styles, each being unique and different from what is currently seen in retail stores. Forever Metals believes that as long as the inventory is fresh and styled from direct customer feedback they will continue to be popular in a down economy. Each ring is also priced competitively starting at $99 and never more than $259 for even the most intricate of ring. Customization options are also available if a customer wants a personal one of a kind ring style to call their own.
Tungsten carbide is a tough metal that deserves recognition in the jewelry industry. Tungsten reaches between a d 8 and 9 on the Moh's hardness scale which is just right below a diamond. Tungsten carbide rings are built to last with a virtually scratch resistant finish and indestructible nature. Forever Metals offers lifetime warranty at no charge to each customer so if something ever does happen a free replacement will be promptly sent out.
About Forever Metals, LLC:
Forever Metals was founded in 2005 by Gary Camphausen who was having a hard time coming across a unique wedding band for himself that was priced affordably for his own wedding. Being an Engineer in the metal industry he decided to create a line of rings that people want to wear and will never break the pocketbook.