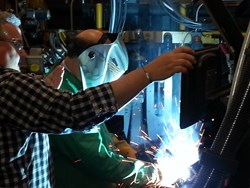 Instructors love the idea that our RealWeld Trainer can coach their trainees just like a GPS device, using the instructor's own voice as if they were standing over the shoulder.
Columbus, OH (PRWEB) September 30, 2013
RealWeld Systems, Inc. today announced that its patent-pending RealWeld Trainer™ system now supports real-time audio coaching during both live and practice training sessions. This significant enhancement will be demonstrated publicly for the first time on National Manufacturing Day, October 4, 2013, at EWI in Columbus, Ohio.
"We've met amazing welding instructors across the country this last year," said Bill Forquer, Launch CEO of RealWeld Systems, "They love the idea that our RealWeld Trainer can coach their trainees just like a GPS device, using the instructor's own voice as if they were standing over the shoulder. Our early adopters – who are key in driving our development roadmap – agree, and we're excited to begin testing this new feature with them."
The RealWeld Trainer™ is the only welding training solution on the market designed for a welding booth and used under the hood with a live arc or for practice welding with the arc off. With the new voice enhancement, instructors will be able to configure their RealWeld Trainer™ systems to give students commands from "Alli," an instructor voice provided by RealWeld, or they can record and upload their own voices to provide instruction to their students. Either way, trainees have the benefit of real-time audio feedback in addition to visual analysis and gamified scoring already provided.
"There are three welder training methods – audio, visual, and hands-on," said Ed Abbott, General Organizer, International Association of Bridge, Structural, Ornamental and Reinforcing Iron Workers. "I like the RealWeld Trainer because it combines all these learning methods while actually welding live."
RealWeld Trainer can be used to improve the screening of welders prior to being hired, assess skill certification levels, and clone the technique of master welders into documented welding procedures. It is capable of being integrated into community college and labor union curricula, and can effectively narrow the skill gap of graduates being fully productive for their employer.
RealWeld will be demonstrating RealWeld Trainer and this new real-time audio coaching feature at Fabtech Expo 2013 in booth N2192.
About RealWeld Systems, Inc.
RealWeld Systems, Inc. is a commercialization spin-out of EWI who invented the patent-pending technology used in RealWeld Trainer™. RealWeld Trainer is the first and only welding training solution that digitally captures motions and objectively scores welding technique while performing real welds with the arc on, or practice welds with the arc off. Visit http://www.realweldsystems.com for more information or follow @realweld on Twitter.
About EWI
EWI, the developer of the RealWeld Trainer, is an international thought-leader on materials joining and allied technologies. It uses manufacturing technology innovation to increase the competitiveness of over 1,200 member locations of global leaders in the advanced energy, aerospace, automotive, government/defense, heavy manufacturing, oil and gas, and consumer products industries. EWI also operates a variety of technology-based centers and consortia to further increase U.S. manufacturing innovation. To learn more, visit http://www.ewi.org, email info(at)ewi(dot)org, or call 614.688.5000.