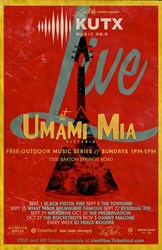 Music is such an important part of our culture and economy, sponsoring the new KUTX live music series just makes sense. - Dr.Shane Matt, DDS
Austin, TX (PRWEB) September 21, 2013
Authentic Smiles is known as the rock n' roll dental studio of Austin so sponsoring a live music series was a perfect way to give back to the community. They have teamed up with KUTX and Umami Mia to put on 8 shows featuring some of the best acts in Texas.
Dr. Shane Matt, DDS already blends his two passions, dentistry and music, by providing local and traveling musicians with dental care. He is also an active fundraiser for HAMM, the Health Alliance for Austin Musicians. "Anytime we're given the opportunity to provide support to local musicians we act on it," said Dr. Matt. "Music is such an important part of our culture and economy, sponsoring the new KUTX live music series just makes sense."
ADMISSION AND LOCATION
Like other KUTX concerts series, KUTX LIVE at Umami Mia events are free to the public. RSVP and VIP tables are available through LiveVibe.Ticketbud.com.
The KUTX LIVE concerts will take place at Umami Mia Pizzeria located at 1500 Barton Springs Rd. Their ample outdoor patio and stage will serve as the venue from 1-5pm on select Sundays. Concert attendees can enjoy items from Umami Mia's full menu during the event as well as tap beer and other refreshments.
The next show is slated for Sunday September 22nd.
MUSIC
DJ Mixer Rogers will kick off each of the KUTX LIVE events, spinning tunes from 1-3pm before a local band hits the stage. This week's upcoming show will feature Residual Kid.
ABOUT RESIDUAL KID
Comprised of just three members - Deven Ivy on guitar, Ben Redman on drums and Max Redman on bass – this young band is able to kick out alternative rock that defies their age. Despite not being old enough to drive, the trio behind Residual Kid has already gained national recognition. Since their first EP released in October 2011 the band has continued their trajectory, and they are now one of Texas' most promising musical talents.
ABOUT AUTHENTIC SMILES
Authentic Smiles provides comprehensive dental care as well as cosmetic dentistry, neuromuscular dentistry and sleep apnea treatments in a comfortable, professional environment in the heart of downtown Austin. Equipped with the latest technology in oral care, Dr. Matt and his team can perform a wide variety of services, including same-day crowns, veneers, inlays and onlays.