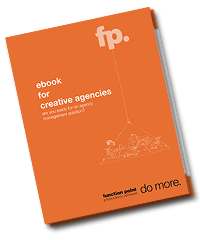 Agencies may not know if they are ready to on-board an integrated SaaS solution for their agency. This new eBook helps creative industry professionals identify key performance indicators and understand the process of rolling-out a productivity tool.
Vancouver, BC, Canada (PRWEB) September 21, 2013
Function Point Productivity Software Inc. has released a free new eBook, Are You Ready for an Agency Management Solution?, to help professionals in the creative industry determine if they are ready to undertake a productivity system in their agency. As well, fp. has also redesigned their existing eBooks, How to Accurately Measure Time and Resources in Your Agency, and Using Project Management Software to Increase Productivity in Your Agency.
New Online eBook
The comprehensive new book is available free online via Function Point's website (http://www.functionpoint.com) under the "Resources" tab in the "Learning Centre".
The 37-page book offers a readiness test and several key factors to consider when assessing agency performance that can assist creative agency leaders in determining if their firm needs a software-based management solution.
The eBook also provides useful measures for assessing any new software solution a creative agency may be considering, such as:
1. Whether the software model works for their agency, and how such software would be provided (SaaS vs Served). The Total Cost of Ownership (TCO), and Capital Expenditure (CapEx) are addressed as potential areas for prospective adopters to consider as part of their decision matrix.
2. A high-level overview of features to consider is also provided, such as security, feature-set, scalability, costs (upfront and hidden), as well as vendor credibility and compatibility.
3. A discussion of how to determine the needs of the agency in respect of agency size, priorities, users and their roles.
A thorough review of how such a system can be adopted and rolled-out successfully to staff is also provided, as well as highlights of how a system like Function Point can help in this process.
Redesigned eBooks
Function Point's free eBooks, How to Accurately Measure Time and Resources in Your Agency, and Using Project Management Software to Increase Productivity in Your Agency, have been updated and redesigned into a dynamic new template. This new template has been crafted to provide a friendly and useable reading experience, and also allow readers to instantly access the fp. website and social media channels.
"We're extremely pleased with the professional new design of our eBooks and are certain that our readers, customers and users will find the new designs appealing." – Chris Wilson, President and CEO, Function Point Productivity Software
---
About Function Point
Function Point Productivity Software Inc. (Function Point) is a web-based software as a service (SaaS) company, and is located in Vancouver B.C. The company was founded in 1997 and is a worldwide leader in CRM, time tracking, invoicing, task, project and workflow management software for marketing companies, advertising agencies, design firms, and interactive web development companies with over 5000 active users worldwide.
Function Point is in business to help improve client profitability by providing a single integrated solution for managing the day-to-day challenges of running a growing creative firm. Our cloud-based all-in-one integrated solution, fp., is specifically designed for creative agency management.
Our software solution includes: customer relationship management (CRM), creative agency time and job tracking, project management, workflow management, estimating and invoicing, as well as optional integration to popular accounting packages such as QuickBooks and Simply Accounting.
With users around the world, including Canada, the United States, Brazil, Singapore, Dubai, the UK, Australia, South Africa, the Caribbean, and more, the Company is truly international and continues to perfect our business tool for increasing agency efficiency and profitability. Companies in all facets of the creative industries use Function Point, including ad agencies, digital agencies, web development companies, interior designers, architects and consultants to name a few.
The company prides itself on its best-in-class customer service, and backs everything with a 60-day, 100% money back guarantee.