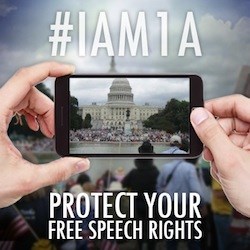 Alexandria, VA (PRWEB) September 23, 2013
Today, the Franklin Center for Government & Public Integrity, a leading non-profit journalism organization, launched a major initiative in response to the United States Senate Judiciary Committee's attempt to define who is a journalist and who isn't.
"Freedom of the press is a cornerstone to our American rights," said Jason Stverak, President of The Franklin Center. "By defining who is a journalist and who isn't, the government is not only violating the First Amendment but potentially seeking to censor information to American citizens."
"First Amendment rights do not belong to only a select few but all Americans. It seems Dianne Feinstein, Chuck Schumer, and Lindsey Graham has forgotten that. The American people will remind them," Stverak continued.
The #Iam1A initiative purports anyone can be a journalist, and everyone deserves journalistic protection, given to Americans under the First Amendment. It encourages citizen journalists, members of the media, and all Americans to remind Congress that journalism is an act, not a profession.
Learn more at http://iam1a.com/.
The Franklin Center for Government and Public Integrity a 501(c)3 non-profit organization dedicated to promoting investigative journalism. Watchdog.org is a collection of professional, independent journalists covering state-specific and local government activity and is a project of The Franklin Center for Government and Public Integrity. For more information visit http://www.FranklinCenterhq.org.