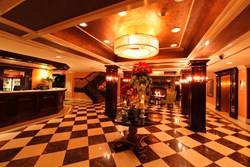 Woodbury, New York (PRWEB) September 24, 2013
Today's traveler is tech savvy and tends to play the market in waiting until the last minute to book their hotel accommodations. Whether it be for a flexible travel schedule or hopes of finding a last minute deal to save money, travelers are in the driver's seat while hoteliers are facing a turbulent market. Due to last minute bookings, occupancies tend to be unpredictable which can result in a rate game. As an industry standard with supply and demand, as supply diminishes the rates go up. But with last minute booking mobile applications and OTA's selling keys at discounted rates, hotels are left playing with rate until the very last moment.
One Long island hotel (The Inn At Fox Hollow) is attempting to overcome this cycle by offering attractive advance purchase discounts. This new travel discount offer rolled out in September 2013 where travelers can save up to 15% off their hotel room by booking as early as 30 days out. There are a few ways this incentive helps the traveler. 1) they are saving with the advance purchase incentive, 2) they are getting the Best Available Rate for that time, bringing us back to supply & demand increases 3) travelers avoid unnecessary stress in finding a room at the last moment in what could potentially be a sold out market.
The Inn at Fox Hollow prides themselves with amenities that go Above & Beyond their guests' expectations and is considered to be the area's premier luxury hotel. What is unique about this boutique property is that it offers complimentary amenities such as breakfast, dinner, WiFi & shuttle in their rate, whereas other area hotels charge a la carte for these amenities and services. Because this hotel is typically near 100% occupancy, they do not feel the need to play in the last minute booking game. However, they do value their guests business and are extending discounts for advance bookings which is sometimes a greater savings than what is found through third party agents. Offers such as this can be found on the Inn's web site and change periodically so be sure to visit frequently to stay abreast of current deals.
To learn more about the Inn at Fox Hollow and ways you can save on future travel to Long Island, visit http://www.TheInnAtFoxHollow.com.