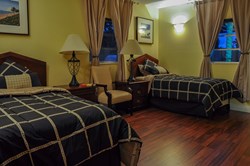 'If you or someone you know gets involved with these new designer drugs, get immediate help at a professional detox center,' said Robert Niznik, Harbor Village.
Miami, FL (PRWEB) September 25, 2013
HealthDay has reported (9/17) in their news story titled, http://health.yahoo.net/news/s/hsn/bath-salts-drugs-led-to-23-000-er-visits-in-one-year-u-s-report , that street designer drugs called "bath salts" were at least partly responsible for nearly 23,000 emergency department visits in the United States in 2011, a new report says. The report found that 67% of emergency room visits linked to bath salts also included another drug.
In recent years, "bath salts" have become increasingly popular for those who take recreational drugs. You can disregard the familiar sounding name because these synthetic drugs are nothing like the crystals you might use in a bathtub.
Harbor Village, located in sunny South Florida, is equipped to help clients dependent on designer drugs receive private drug rehab in an upscale, 24/7 medically supervised, state-of-the art environment. Every client staying at Harbor Village is greeted by luxury accommodations including a beautifully furnished suite complete with satellite television, over an acre of scenic outdoor lounge area, pa. salon, massage and acupuncture services, nutritious, gourmet dining, limo pickup and transportation to anywhere in Florida, and a personalized program designed for each client's specific problem.
According to Bath Salts' Drugs Led to 23,000 ER Visits in One Year: U.S. Report, there had been no previous research conducted on the relationship between the use of "bath salts" and energency room visits until the U.S. Substance Abuse and Mental Health Services Administration (SAMHSA) conducted its study. The drug appeared a few years ago.
"Although bath salts drugs are sometimes claimed to be 'legal highs' or are promoted with labels to mask their real purpose, they can be extremely dangerous when used," Dr. Elinore McCance-Katz, SAMHSA's chief medical officer, said in an agency news release.
"Bath salts drugs can cause heart problems, high blood pressure, seizures, addiction, suicidal thoughts, psychosis and, in some cases, death -- especially when combined with the use of other drugs," she noted.
"Designer stimulants like bath salts are purchased by drug abusers who never really know what they are taking. If you or someone you know gets involved with these drugs, get immediate help at a professional detox center, said Robert Niznik, Harbor Village CEO.
For more information, visit: http://harborvillageflorida.com or call the 24/7 hotline 1-855-338-6900.
Media Contact: 
Robert Niznik 
Harbor Village 
Miami, FL 
305-999-5728 
robert(at)harborvillageflorida(dot)com