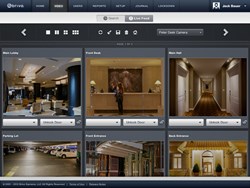 The revamped UI directly reflects feedback from our users and further demonstrates our commitment to continuous improvement. What's more, this major upgrade is delivered automatically and without charge to all of our users. John Szczygiel, Brivo EVP
Bethesda, MD (PRWEB) September 23, 2013
Brivo Systems LLC, leader in cloud applications for security management, today announced the company's release of Brivo OnAirSM version 10.11, featuring an updated User Interface (UI). Brivo OnAir is the new brand name for the former Brivo ACS WebService® cloud-based access control management solution.
With the introduction of this updated interface, Brivo further extends its leadership in the cloud-based access control and video surveillance space by offering a more visually rich and responsive experience for its customers. The Brivo OnAir interface is streamlined and designed for usability, reducing the learning curve and simplifying both system deployment and day-to-day security management.
For the redesign project, Brivo engaged a team of user experience (UX) experts. The team conducted hundreds of hours of interviews with current and prospective users to determine how they worked. They incorporated this information into profiles of user "personas" in order to bring focus to ensuring that the resulting interface responded to the needs of Brivo's users. This first phase of the interface re-design incorporates the key findings from this process and sets the stage for additional enhancements to follow.
"This is an exciting day for Brivo, our channel partners and end-users," said John Szczygiel, Executive Vice President. "The Brivo OnAir name better captures the essence of our cloud-based solution. The revamped UI directly reflects feedback from our users and further demonstrates our commitment to continuous improvement. What's more, this major upgrade is delivered automatically and without charge to all of our users. That's cloud computing, that's Brivo OnAir."
Among the features the Brivo OnAir version 10.11 offers:

A rich user experience that maximizes video and access control management. A new top-level video tab provides immediate access to recorded and live Online Video Recorder (OVR) video.
Simplified search capability provides a comprehensive view of access and video motion events on a timeline display; events are visually represented and prioritized using color coding, intuitive icons and other visual cues.
The system landing page is optimized to provide shortcuts for everyday operations: create a new user, find a user or a card, change passwords and search video all on this page—saving time navigating through multiple screens.
To learn more, come to the Brivo booth #1845 during the ASIS tradeshow in Chicago, 24-26 September, or visit: http://www.brivo.com/10.11.
For more information on Brivo Systems, contact Brivo toll–free at 1-866-692-7486 or email sales(at)brivo(dot)com.
About Brivo Systems
Brivo Systems LLC is a SaaS-based security management systems provider for organizations that need to protect and remotely monitor buildings and perimeter entry points. When introduced in 2001, Brivo's Web-hosted physical access control system was a unique solution—after a decade of evolution and innovation, it still is. Brivo's groundbreaking physical access control and video solutions empower organizations by giving administrators real-time device control, including immediate visibility of security events and video in local or remote facilities—anytime, anywhere.
The company's innovative, secure, and open architecture-based products and services enable businesses to protect people and assets, comply with regulations, and improve business operational efficiency. These scalable systems—whether standalone or appliance-based or cloud-based—offer a solution for every type of business. Brivo's security management products are a market-proven fit for commercial office buildings, warehouses, retail stores, manufacturing plants, and sensitive areas, such as server rooms or R&D labs, where real-time control and accountability of entry are important.
With headquarters in Bethesda, MD, Brivo is a wholly-owned subsidiary of The Duchossois Group, a privately held holding company headquartered in Elmhurst, Illinois, which also owns other industry leaders such as AMX, The Chamberlain Group, and Milestone AV Technologies. Duchossois also holds strategic interests in Churchill Downs, Inc., and a number of other diversified businesses.
For Media queries:
Bruce J. Doneff
Public Relations
(843) 476.3022
bruce.doneff(at)brivo(dot)com
For Brivo Systems, please contact:
Rajeev Dubey
Senior Director, Marketing
301.664.5251
rajeev.dubey(at)brivo(dot)com
###