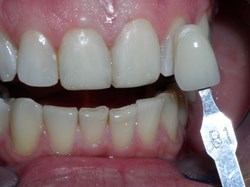 Fountain Valley, CA (PRWEB) September 20, 2013
Dr. Robert Mokbel, a Fountain Valley, CA prosthodontist, now offers patients a wide range of cosmetic dentistry procedures that provide rapid teeth straightening results using state-of-the-art equipment and advanced dental techniques.
Dr. Mokbel's patients can easily improve the aesthetics of their smiles through a number of different treatments and services. In addition to traditional orthodontics, crowns and bridges, and porcelain veneers, Dr. Mokbel's cosmetic dentistry services include teeth whitening, composite fillings, Porcelain Veneers, Same Day Chair side veneers, and Six Month Smiles.
Six Month Smiles is a new orthodontics treatment that expedites the teeth straightening process and allows Dr. Mokbel to correct patients' crooked teeth in a significantly less time than traditional braces. Unlike traditional braces, which often must be worn two to three years, Six Month Smiles focuses solely on the front teeth that show when a patient smiles. Because Six Month Smiles does not correct the back teeth or fix the patient's bite, this orthodontics alternative can usually be completed in half a year.
Snap-on Smile is an alternative "Temporary" solution for patients looking for a fast way to transform their smiles. Snap-on Smile is a dental appliance comprised of thin resin material that snaps over the patient's natural teeth and can be removed for brushing and flossing. Dr. Mokbel customizes the shade and smile design of the device to each individual patient and completes the entire treatment in just two visits.
To learn more about any of Dr. Robert Mokbel's cosmetic dentistry services, please contact the Fountain Valley office at (714) 905-5335 to schedule a consultation.
About the Doctor
Robert Mokbel, DDS is a prosthodontist offering personalized laser and implant dentistry for gum disease patients in Fountain Valley, CA for over 28 years. Dr. Mokbel received his Prosthodontic degree in Paris, France where he did four years of research in prosthetics and in occlusion and attended periodontal courses. He then arrived at USC where he taught prosthetics since 1983. He is part of one percent of dental professionals providing the most recent FDA cleared laser procedure for gum disease treatment. To learn more about Robert Mokbel, DDS and his services visit his website at http://www.scdentalimplants.com and call (714) 905-5335.