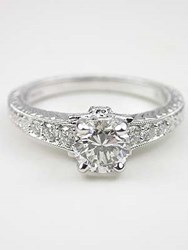 When it comes to round diamonds, there really is no way you can go wrong with an engagement ring.
Atlanta, GA (PRWEB) September 24, 2013
Soon-to-be brides who like to stay atop of the latest trends may want to seriously consider a round cut diamond while engagement ring shopping. In honor of a trend that is taking both Hollywood and the nation by storm, antique jewelry boutique Topazery has just selected a round cut diamond engagement ring as its current spotlight piece. Now being showcased on the Topazery website is an antique style engagement ring with a round center diamond and a flirtatious flower motif.
In a recent article titled "Round-Cut Engagement Rings Brides Will Love," the "Huffington Post" declared the round cut diamond as "the most popular engagement ring cut." In outlining the reasons for this resounding popularity, the publication pointed to the "loads of fire and major sparkle" emitted by the round brilliant cut in particular. It also singled out the shape's versatility, which is "beautiful in nearly every style setting."
Antique jewelry boutique Topazery couldn't agree more with that assessment. That's why the company currently stocks dozens of round cut diamond engagement rings in its inventory in styles to suit every bride's taste. And in honor of this round cut diamond engagement ring trend, Topazery has selected a round cut diamond engagement ring with flower motif as its current showcase item.
To see just how popular the trend is, one need only turn to Hollywood for proof. Stars ranging from Carrie Underwood to Nichole Richie to Anne Hathaway all sport engagement rings with round diamonds. And the rings are as eclectic as the celebrities themselves. Richie's embraces the fashionista's style consciousness with a round halo. Underwood's gives a nod to her girl-next-door reputation with a youthfully fresh 5-carat round yellow diamond. And Hathaway's showcases her sophisticated Hepburn style with a 6-carat round brilliant-cut center diamond that is set into a timeless platinum setting.
"When it comes to round diamonds, there really is no way you can go wrong," points out Topazery's spokesperson. "That being the case, it was very hard to select just one spotlight engagement ring to represent the trend. In the end, we went for something a little bit different, something that's classic, feminine and a little bit playful all rolled into one."
The round cut diamond engagement ring Topazery's spokesperson is describing with that statement is an antique style one with a pretty flower motif playing about the undersides of its centerpiece diamond. The petals of these flowers are formed from marquise cut diamonds that are set in an 18k white gold band.
For more information on how to select a trendy round cut diamond engagement ring that best represents a specific personal style, contact Jan Walden at (678) 528-8901. To browse Topazery Jewelry's full selection of antique, vintage and antique style round cut diamond engagement rings, visit the company online at http://www.topazery.com/.